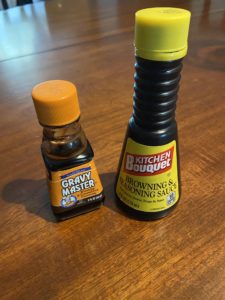 CANAJOHARIE, N.Y. – Classic kitchen staples that have not changed over the years are getting rarer and rarer.
One of those mostly unchanged brands is Gravy Master, made by Richardson Brands. Richardson makes other classic niche brands, including Beechies, Dryden & Palmer Rock Candy and Richardson Mints, those tiny mint-candy covered chocolates that restaurants give out by the register. The company began in the late 19th century when Thomas D. Richardson first began selling mints at a Philadelphia department store.
Gravy Master is a useful thing to have around; a few drops in the pan after cooking meat make a tasty gravy; all  you do is add flour to the mix…
The little glass bottles, which sort of remind of an ink bottle, keep a classic look. The competitor to Gravy Master is Kitchen Bouquet.