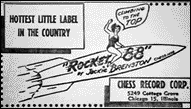 What's America's greatest contribution to world culture? It's our music. And luckily, much of that African American music part of the heritage is alive, in museums and sites across the U.S.
Here are some of the top music labels associated with African-American music. We know there are more (think Black Swan, Blue Note records); we just wanted to get the list started.
Certainly, there are thousands of sites associated with African-American music across the country, from theaters to houses. We wanted to list a few of the actual record labels.
Motown: Hitsville USA in Detroit is the best known American soul brand. What else can be said about Motown that hasn't? Visit the Motown Historical Museum at Motown Historical Museum, 2648 W. Grand Boulevard, Detroit. Amazing that its just an American Foursquare-style house.
Stax Records: The Stax Museum of American Soul Music, located at the original site of the legendary Stax Records in the heart of Soulsville USA in Memphis, Tennessee, welcomes you to all things Stax. See www.soulsvilleusa.com
Philadelphia International Records: What is there not great to say about Kenneth Gamble and Leon Huff. All we can say is O'Jays, Teddy and Patti LaBelle. Oh, and get on the Love Train because it is touring this summer. The building at Broad and Cypress Streets in Philadelphia has the label name on the outside.
Chess Records: This Chicago recording institution is responsible for Etta James and a slew of other greats. The studio at 2120 South Michigan Avenue is a Chicago landmark.
Paramount Records. This Wisconsin label recorded some of the early greats. A website called ParamountsHome.com details the history of Paramount. ParamountsHome was founded by author of "Paramount's Rise and Fall", Alex van der Tuuk, and Grafton residents Pat and Angela Mack in the beginning of 2005. After realizing that such an archive has not been available on Paramount-related topics, we saw the need to educate. In addition, in cooperation with the local historical society, they offer a walking tour of Paramount related sights in Grafton, Wisconsin.
Sugar Hill Records. This legendary label that invented rap had a studio in Englewood, New Jersey. It was apparently destroyed by fire.
If you are interested in music museums in general, visit the Music Museum Alliance website, with info on all sorts of popular music attractions across the U.S.
Please add to our list.