LOUISVILLE, Kentucky – An entire generation of Americans recognize the venerable Morton Frozen Foods brand, remembering fondly its many products ranging from pot pies to honey buns. Despite humble origins in an abandoned Louisville church basement, Morton grew to become one of the nation's premier manufacturers of frozen foods in the mid-20th century.
Although Morton achieved a spectacular level of success with its wide array of products, a succession of corporate buyouts prompted its movement toward obscurity until it disappeared completely from grocery store freezers in the 1990s. However, efforts are currently underway to breathe new life into this icon of American business history.
In 1938, a recent college graduate and entrepreneur named Harold M. Morton ventured into the competitive packaged food industry by establishing a small chicken processing and canning firm in Louisville, KY. First based in an abandoned church basement, the company became known regionally for its signature chicken and noodle dish that it sold in glass jars.
While the Morton Packing Company slowly grew, Harold Morton left the helm due to some unforeseen circumstances and went on to engage in other endeavors. However, business boomed for the company during World War II since consumers did not have to surrender many ration points to buy Morton's chicken and noodle concoction. Further, the company benefited from lucrative government contracts, packaging food – mostly soups – for the U.S. armed forces, and soon moved into a larger manufacturing plant in Louisville.
Post War Innovation & Edward Stettinius
Unfortunately, the bottom fell out for Morton following the war as their signature dish was no longer desirable among consumers. The company would have likely gone under had it not been for a chance luncheon between two corporate leaders in 1946.
That year, former U.S. Secretary of State Edward Stettinius dined with respected food industry consultant George Egger at Stettinius' estate outside of Charlottesville, VA. As they chatted and ate chicken pot pie, Stettinius remarked to Egger, "You know, pot pie is the oldest of our traditional American dishes, but housewives don't seem to find time to make it anymore. It's too bad that some food company doesn't turn out a tasty chicken pie."
A visionary business leader who was well connected within the food services industry, Egger immediately filed this idea away in the back of his head. A short time later, he was brought in as a consultant to help revive the troubled Morton firm and immediately shared the idea with the company's leadership. Morton staff quickly developed a commercially viable chicken pot pie and the company's fortunes immediately changed.
Morton sales began to soar as the American public became fascinated with this new frozen chicken pot pie. Egger, who was appointed Morton's president in 1950, was also successful in financing a major media campaign that introduced "Colonel Morton" to consumers across the nation. In the meantime, Morton began to diversify into other meat pot pies as well as fruit pot pies, operating four production plants across the country and becoming an industry leader in the frozen foods field.
Morton reached the pinnacle of its success in the mid-1950s, when famed financier John Hay "Jock" Whitney was talked into investing millions of dollars into the company. These resources proved instrumental in making Morton a truly national brand. However, although the American public was increasingly fond of Morton's "Old Kentucky Recipe," the company struggled to find the resources to compete with larger corporations that were entering the frozen pot pie market. Consequently, Egger sold Morton in 1956 to the Continental Baking Company and launched a new era for the Louisville firm.
Dessert and Bakery Products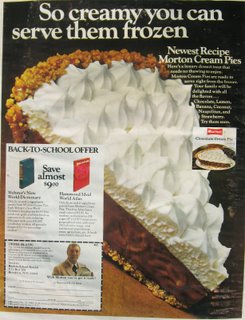 Renamed Morton Frozen Foods and relocated to New York in the late 1950s, the company (later a division of ITT Continental) began to add frozen dinners and other desserts to its lineup of products. Morton's "golden age" continued into the 1960s, as American consumers were still quite fond of its products. However, increasing competition and the rise of fast food began to spell trouble for the brand in the 1970s.
In response, Morton began to transition toward frozen dessert and bakery products, ranging from cream pies to donuts to honey buns. They were well received by consumers but failed to achieve the same impact that Morton once enjoyed with its pot pies. "Colonel Morton" also ceased to exist on Morton packaging as the company shifted to other less distinctive logos.
Further, Morton was sold during this period to a succession of corporations, ranging from Del Monte to its most recent owner, ConAgra, in 1986. This succession of buyouts gradually transformed Morton from a distinct company with its own unique identity into a more artificial brand. A 1990s corporate restructuring prompted ConAgra to remove Morton from its list of active products, and the brand ceased around 2000.
Editor's Note: A group of individuals with ties to Morton has recently emerged with a plan to put the brand back on the map. Their efforts will be discussed in Part 2 of this article, which will follow.