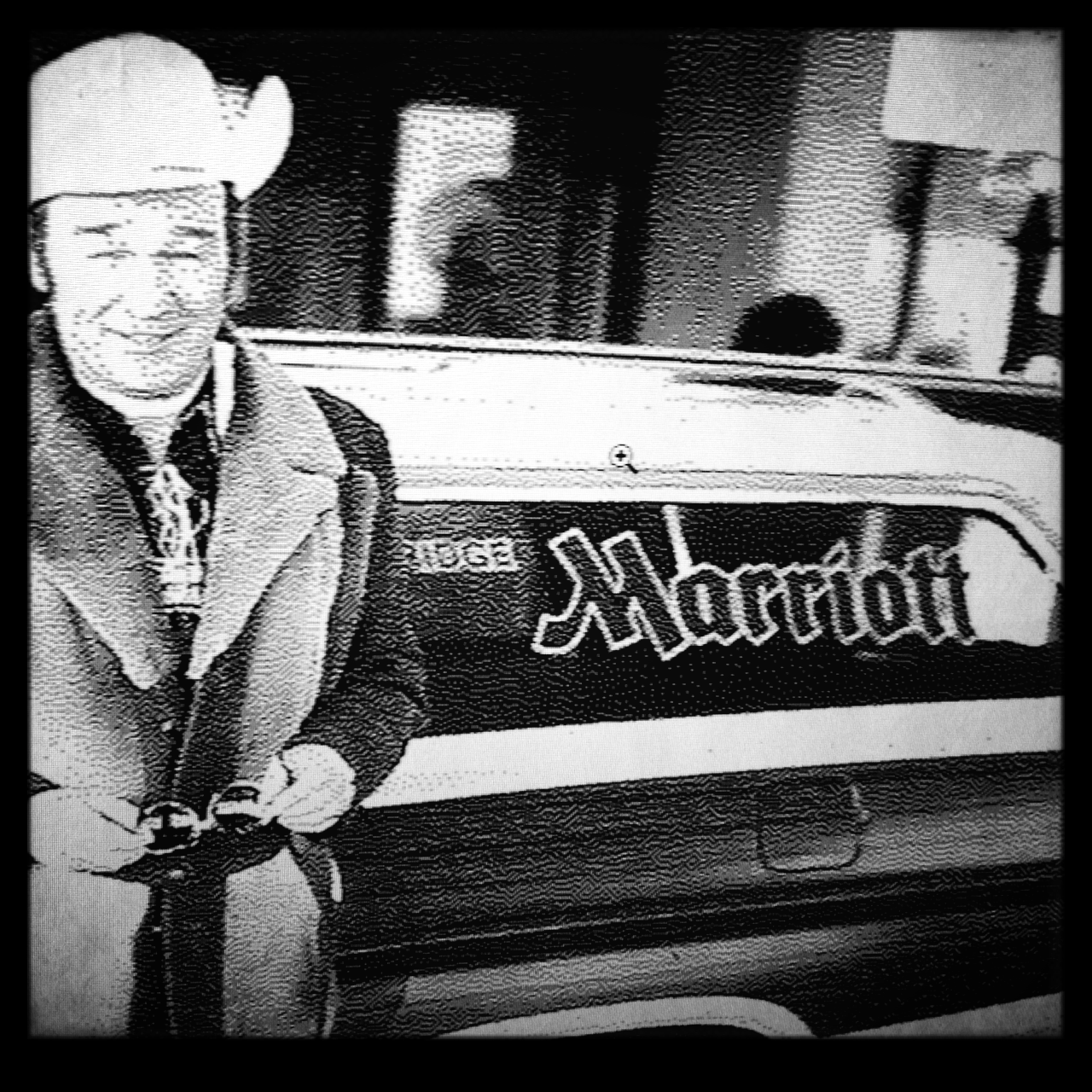 It was the Chipotle of the 1970s. A fast food brand started by Marriott, Roy Rogers almost went by the wayside, but then the wayside of the New Jersey Turnpike kept the brand visible, and it lived.
The idea was simple. Serve better ingredients than the normal fast food restaurant, allow people to put their own stuff on the hamburger at a "fixins bar" with lettuce, tomato and mayo and serve a few other things than burgers, including chicken and roast beef. Give the brand the wholesome image of Roy Rogers himself, who was trustworthy, American and safe.
Pictured here, I took a Vintage Cam app photo of Roy visiting the Key Bridge Marriott, back in the 1970s. And yes, he is standing next to a Ford LTD Country Squire, with wood grain.It grew out of the original Marriott chain, Hot Shoppes, and found a strong niche in the 70s and 80s. Marriott eventually sold the chain to focus on its hotels, and the fast food company went downhill quickly. By the 1990s, it seemed to only survive on turnpikes in the Northeast, though some stores continued to be open. Eventually, it was owned by Hardee's, which was ruined too, and they sold it, thankfully.
Currently, the company is owned by Plamondon Hospitality Partners of Maryland. Owners Jim and Pete Plamondon's father was an original franchisee, and they are now reviving the brand. In addition to Roy Rogers, they still own some Marriott franchises. This means that they have some integrity, and I would bet on them. They recently opened their 49th restaurant  in Winchester, Virginia, and are aiming to build to 100. I should think this would be a good franchise to buy, with owners who know, love and are invested in the brand. In addition, because it is not a super-sexy franchise, it would be a very good time to get in.
The chain is now courting franchisees more aggressively, including advertising in The Wall Street Journal.
Fast food revivals can work, but it is a slog. International House of Pancakes revived itself, but the last time I went, it was back to the frightening sort of place one might frightening people, a sort of quickly gussied up Steak 'n Egg kitchen. An original Howard Johnson's is opening, and that has a very good chance. The A&W revival worked, which is particularly apropos to this story because the Marriotts got their start with an A&W franchise, eventually dropping the brand (which failed as a chain) and then moving onto Hot Shoppes and then creating Marriott's hotel brand family.
Below, a vintage 1978 ad: