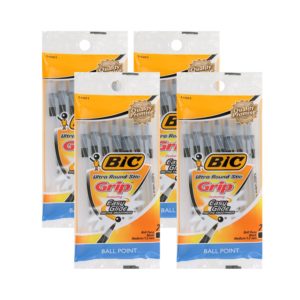 Sometimes, the best things are not necessarily the most expensive, or easy to find. Such is the case of the Bic Round Stick Grip, a pen that may be one of the best pens ever.
Of course, Marcel Bich & Edouard Buffard's original great pen is the 1950 vintage Cristal, that classic of offices everywhere. But I am not a fan of it, even though it has flat sides so that it does not roll. First, the Cristal is quite hard plastic, and while its ok, when you get used to the Round Stic, you don't want to go back.
And others might like the Bic Click, or the Bic Banana. Or the multi-color Bic pen, that switches from red to blue to black to green. Frankly, they are all elegant classics, but the Grip is the best.
They have changed them over the years, and the stripes on the outside of some of the pens are no longer. The red ones are valued by editors everywhere, as you can use and forget the cap.
There are several reasons why the Round Stic Grip which is decades old, is great.
It lasts. And lasts. And lasts. You can leave the top off, and it does not dry out or become, well, unevenly sketchy.
It is easy to use. The plastic is sort of slightly soft, and the grip toward the index finger area is different from the base of the pen.
The roller ball at the end of the tip is large enough to make a good splash on the page, but not too big to be a mess.
The pen is inexpensive. Oh sure, there are cheaper pens at Staples and such, but this one lasts so much longer than the really cheap ones, it is a bargain.
It actually looks pretty good. There are no odd colors on the outside, and few bumps and such that make the pen larger than it needs to be.
The problem is that it is harder and harder to find; Walmart at this writing does not stock them, and neither do many major office supply stores. In addition, there are a number of versions, the Ultra, which promises long life, and the Grip, which has the little striped band at the top. Frankly, the Grip with the stripe at top is superior.