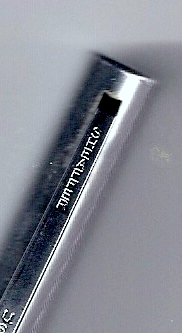 Pens are important, and so is penmanship, though I don't have the handwriting I wish I had and wish I had taken courses with the Marion Richardson series.
That being said, I do like writing by hand, and like different pens for different things. I like a fountain pen, though not the expensive ones sold in office stores. I also am frustrated that some brands of pen, once ubiquitous, are now non-existent, including the Bic Banana (how about that Charles Nelson Reilly ad?)
I am not a pen snob. This whole trend toward $200 pens is oafish and terribly prissy. Certainly, there is a place for collector pens, but the way fountain pens have turned into some sort of cult? There is no harm in having one or two good pens, if you like, but they are not practical for everyday use.
Pens are tools, and if you are worried about losing a pen, then it is no fun to use. I like them cheap and disposable. I got a ball point Parker for graduation and never could spring for a new cartridge. It was heavy, ugly and I was always worried about losing it.
That being said, I do think there is room for pen collectors, who preserve all the varieties of pen brands. But there is no room for pen collectibles, which are marked-up junk. If you like the latter, you will not understand the distinction.
Pen brands are a bit mucked up now, mostly from the dominance of shelf space at the three major office supply chains, and the mergers of the pen and marker makers. Frankly, the office supply buyers at each of these companies needs to re-assess how much shelf space they are giving to just a few brands. The selection is boring (that's you Office Depot); you are making yourselves dependent on fewer suppliers, and then cutting out any competitors.
Here is an entirely arbitrary list of favorites.
Sheaffer fountain pen: The cheap version, not the prissy version, thank you. This is my favorite pen altogether, though it is harder and harder to find in office stores, along with the proper cartridges that would fill it. This fountain pen got me through high school and now I use it, whenever I can find it as I often lose the one I have around the house. In fact, I was using it yesterday and lost it AGAIN! Drat. I went to their site today to see about buying some replacements and they had some stupid quiz that asked me how old I was and suggested different personality traits to pick from. They then suggested I could buy different pens, some ball point and some fountain. (Editor's note: the company introduced updated models around 2018, though the company has been sold to overseas interests.)
Sanford Major Accent Highlighter: This is the classic highlighter brand. I have to admit I buy other cheap brands of highlighters, but since I have been thinking about this column I will stick to one brand heretofore. I am annoyed that now it seems to be the Sharpie Accent. Sharpie is a brand for indelible pens, not highlighters!
Flair: This is the great brand of the 1970s. Felt-tip and porous. Do I remember Mrs. Nold at Norfolk Academy had it? Or was it Mrs. Wallace? I think both did but it could have been later and I got it all confused. Flair was introduced in 1966 so that's just about as old as I am. Made by Paper Mate, still. Neil Armstrong signed a flagpole for me at Dulles Airport with a Flair.
Sanford Mr. Sketch: This is the brand where it is encouraged that you smell them. Not only perfect for school kids, but they are good for people who are blind or visually impaired, who cannot see the different colors. I had a set that I kept perfectly, and wish I still had some. But they are impossible to keep around as they always get used. Licorice is best.
El Marko: These were no longer sold, but have been revived. The originals lasted forever. I have one that is literally 40 years old.
Bic Round Stic Grip: These puppies also last forever. And ever. I swear I had a red pen for marking magazine galleys that lasted for at least three years, cap off, but since they are all the same, who knows if it actually did? The reality is that rarely do these pens run out. I also like the fact that Bic makes lots of different kinds of things under their brand. While their one-blade razor is pretty awful (though it does have a certain elegance), Bic's windsurfers are way cool. And the little Bic man is great. But the big question; what happened to the Bic Banana ink crayon?
Sharpie: This is a cool brand that is being ruined by non-creativity and over extension. I had the bad fortune of buying a small amount of Newell Rubbermaid stock, and it does not have me in a happy place. The Sharpie brand has been expanded too much, and parent company Newell Rubbermaid is using Sharpie as a one-trick show, when they should be doing other things with other pen brands.
Oh, and Sheaffer. Bring back my fountain pen or at least tell me where to get it. And I don't want to have to buy a calligraphy set to get it.