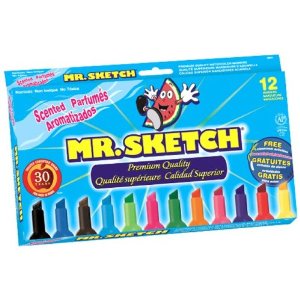 Since the 1970s, the greatest magic marker for kids has been the Sanford Mr. Sketch. You know this one; its a set of a dozen or so markers, all water soluble, that smell like their colors. They are sold in sets of different sizes, including 4, 8, 12 and 16.
They have great cult appeal; on YouTube all sorts of folks have posted videos, including the favorite practice of Mr. Sketch users, painting the smelly moustache!
Urban legend says that they had to stop making them because the government didn't want kids to be sniffing pens, but this is not true.
Taste wise, they sort out like this, for instance:
Black/Licorice
Red/Cherry
Yellow/Lemon
Brown/Cinnamon
Of course, favorite is the cinnamon, but they are all pretty good. However, there is some debate as to whether the quality is what it used to be, and the markers apparently don't last as long as before. Currently part of Newell Rubbermaid, the Sanford brand has been ignored, and Mr. Sketch too. There is definitely a lot more that could be made out of the brand; it just needs to be connected to Sanford, not Sharpie, which is all about being indelible.
Sanford as a brand has a long history. It was apparently founded in Massachusetts in 1857 by Frederick W. Redington and William H. Sanford, Jr. as the Sanford Manufacturing Company. It later moved to Illinois.
Question for BrandlandUSA readers..is the Mr. Sketch as great as it was? And if you were to give some advice to Newell Rubbermaid, what would you say?