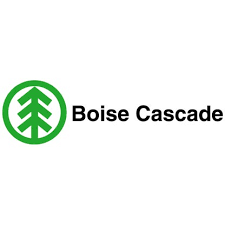 Perhaps one of the better paper brands was Boise Cascade. It, according to the Boise website, became a craft paper brand in 1958 in Wallula, Washington.
Over the years, the brand grew, with plants across the country. It was tied together, with all sorts of other lumber businesses, into a great big Boise Cascade company that was all about forests, sustainability and wholesome paper. The company also went into the business of RVs, cruises and homebuilding.
But in 2008, they sold out to an investment firm, and today is just focused on "safe, sustainable manufacturing and meeting customer needs."
Sadly, they are not meeting needs without the word Cascade or the green Boise Cascade tree. And a pink BoxTops for Education label won't make me buy it. Perhaps I should be happy they kept the Boise part of the name. But, again, it means nothing without the Boise tree.
It has a few brands of paper, none more sterile and unimaginative than Boise Polaris. I am curious. How many pieces of paper came from space? Does anyone want paper in space? Have you ever seen paper in space? I am not even sure if they have toilet paper in space.
Oddly, the Boise is still trademarked by Boise Cascade. So if they are using part of the name, why not all of it?