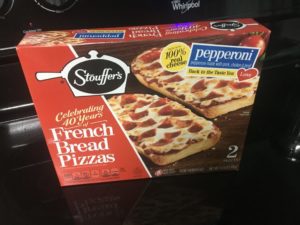 Stouffer's Pizza. The pizza that's not always in the pizza aisle. The pizza that's not really a pizza. The pizza that has the weirdest and most precise directions ever, namely "Pour ingredients left in wrap onto pizza." That's right, Nestle, those little droppings of shaved cheese and quartered pepperoni, are so valuable that you might pick them up and put them back on the pizza.
To celebrate the 40th anniversary of this great American culinary mash-up of France, Italy, America and Switzerland (parent company Nestle), the company has reissued their original packaging. It shows the once familiar Stouffer's pan logo (two linked fs) and the once ubiquitous Stouffer red.
Stouffer's is originally an Ohio brand; the company grew after World War II when its hotels and restaurants promised a mix of midwestern good ingredients and a modicum of "fancy" feeling for the gourmet explosion that was to happen in the 1960s. It didn't hurt that Stouffer's sounded slightly French in an era when Julia Child was ubiquitous on PBS and Le Crueset pans were displacing old ironware in many a Tappan stove.
The key date for Stouffer's is 1969, when they made food for the astronauts in quarantine, with the slogan, "Everybody who's been to the moon is eating Stouffer's."
The French Bread Pizza is a 1970s invention; I am grateful to many nights at the Catesby Jones household when Spottswood Jones served it on Friday nights. It was "deluxe" enough that it looked great on Adams Singapore Bird plates on a 250 year old Queen Anne dining table.
The package reads thusly; I am sure that the real story involves clever marketing folk, and nothing to do with a food truck. But it is a good story:
Legend has it Stouffer's French Bread Pizza was inspired by a late night post-disco visit to a food truck. To celebrate this spark of groovy genius we're ringing back the original packing and taste you love. Our French Bread Pizzas are freshly made then simply frozen. We start with French baguettes, then top them with sauce made with vine ripened tomatoes and herbs, freshly grated mozzarella and premium meats. Share your Stouffer's French bread Pizza memories with us!
In an era when frozen food is back again, it is good timing for the Stouffer's brand.
Unfortunately, the brand is a bit confused these days, and the rest of the product line is not looking so Stouffer's. The red is disappearing. Bad move. The red is what makes it look good. They also have spun off the Lean Cuisine line into more of a separate identity, but had pretty much left Stouffer's alone, with its delightfully anachronistic food items that were hard to find anywhere else. I am thinking here Welsh Rarebit, Cream Chipped Beef and Spinach Casserole. These three food items will sustain any American family of a certain perspective. At a certain time they might have been normie, but perhaps now they have a more cult appeal. They need to promote this identity as it differentiates it from other frozen foods.
The brand is perfection in its original form.
Below, an ad, probably 1980s, for Stouffer's Pizza. Notice the voice is the genius Jake Holmes, who did dozens of commercials (see his reel HERE) and deserves to have a Broadway show, btw.
Help Yourself!