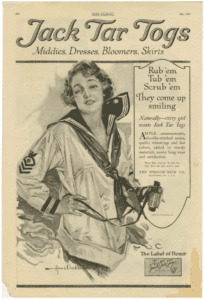 SARASOTA – The brand Jack Tar Togs, which helped to popularize the sailor suit for American youths and women for most of the 20th century, has returned.
The brand was originally marketed to youth and schools, and well known in school and women's uniforms. The company's signature garment was the sailor suit, which was sold in department and specialty stores. They sold the sailor suit as both a fashion item for women, and a practical item for youth.
The brand, which began in Baltimore, was all about the outdoors; in an era of Frank Capra's Little Rascals, the Jack Tar Togs look encouraged adventuresome youth play, and adult sports. Advertising in such magazines as The Ladies' Home Journal and Boys Life, they stressed their sturdiness above all for that generation's free range kids.
The brand has a founding date of 1916, the year that the U.S. entered World War I. Early on, they hired top advertising talent; Jack Tar Togs ads in national publications featured the illustration work of Howard Chandler Christie (1873-1952), a renowned Ohio artist/illustrator who was a close friend of President Theodore Roosevelt and a first judge of the Miss America contest.
A New Jack Tar Togs
In the fall of 2018, BrandlandUSA reintroduced the brand's familiar sailor dresses, and reinvented other sport, marine and youth clothes under the familiar Jack Tar Togs name. Leading the effort is Alice Blum Pollard, a retail whiz who happens to be married to me. The brand will be marketed to youth, children, men and women.
Find out more HERE.