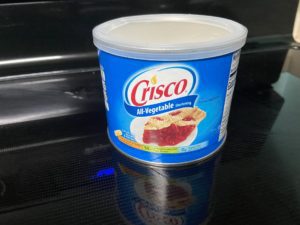 Parsippany, N.J. – Last December, B&G Foods, Inc. (NYSE: BGS) announced the purchase of the Crisco brand of shortening from J. M. Smucker Co. for $550 million in cash. As part of the acquisition, B&G Foods also acquired the Crisco factory and warehouse in Cincinnati, Ohio.
B&G specializes in "shelf-stable" foods, and it is perhaps appropriate that they have purchased the most shelf stable of all grocery products, Crisco. The company name was born as Bloch & Guggenheimer pickle company in 1889.
Crisco dates to 1911, first a product of Procter & Gamble. P&G sold it to J.M. Smucker in 2002. It has a core following for its ability to heat to high temperatures without burning, in chemistry called a flash point. The flash point for Crisco meant that it is admired particularly for the temperature you can achieve when frying chicken in an iron skillet. It is unfashionable in some circles, but has a consistent following. The TasteCooking magazine puts it well:
Cheaper to produce than lard, shortening made baking a beautiful pie for Sunday dinner or a stark-white birthday cake a breeze for those living anywhere, on any income, with just a few staple ingredients on hand. Available and affordable when butter was not—during the Great Depression and times of food rationing in both World Wars—its neutral flavor, long shelf life, and high smoke point quickly made it the go-to for cooks and bakers.
B&G Foods owns a recession-proof portfolio of brand that includes Cream of Wheat cereal, Dash spices, Green Giant vegetables, B&M beans, Le Sueur peas, Brer Rabbit molasses, Ortega taco shells and sauces, Polaner jellies, Spice Islands spices and Dec-a-cake cake supplies. They even dominate areas where there are few large competitors, including Old London Melba Toast. The company has grown by paying attention to the middle aisles of the grocery store. They own proven and historic brands that are un-trendy enough that they do not require giant promotions, yet continue to sell with a following. They also understand a connection to the places that the brands were born; thus Burnham & Morrill, or B&M, continues to make its beans in their original city, Portland, Maine.
A personal favorite, B&G Foods owns Underwood's Deviled Ham, which is the oldest trademark still in use in the United States. In 2018, they purchased McCann's Irish Oatmeal, which dates to 1800.
Visit bgfoods.com