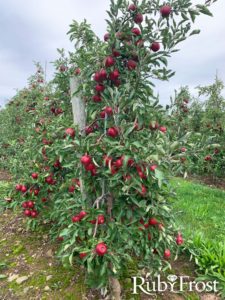 LOCKPORT, N.Y., Crunch Time Apple Growers, a New York State-based cooperative of 152 fruit growers, continues to promote their breakthrough RubyFrost apple variety his fall.
For 2021, they will deliver 175,000 bushels if these tart, crisp apples to supermarkets this season, a 35 percent increase. It is targeted to East Coast residents, in particular, because of distance from markets.
"For those who prefer a less sweet, more balanced taste, RubyFrost is the perfect apple. It combines sugar and acidity to offer a beautifully sweet but tart flavor profile that's packed full of vitamin C so it doesn't brown quickly," said farmer Joel Crist of Crist Brothers Orchard, founded in 1883. He is chairman of the crunch time apple growers board of directors.
Distribution this season includes three new sales partners: Applewood Fresh Growers LLC, Rice Fruit Company and Riveridge Produce Marketing, Inc.
The apple was developed and bred by Dr. Susan Brown of Cornell University in Ithaca. The apple has a tart flavor appealing to a segment of consumers, and is also used for cooking, baking and salads. It is non-browning due to high vitamin C.
The idea of differentiated apple varieties is a generations-old idea, and the 19th century U.S. had dozens and dozens of popular apple varieties. Even during the Victorian age, special American apples were welcomed as a delicacy in Europe.