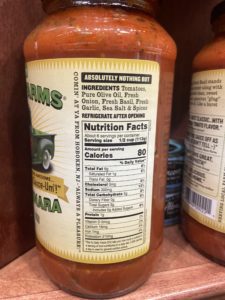 Occasionally, it is helpful to look at newer regional and national brands. One such standout is Hoboken Farms, which got its start in 1992 when founder Brad Finkel began selling at farmers markets in the New York area.
Today, the company operages out of 30 or so markets across New Jersey and New York. Their motto is to "delight the customer and serve its employees and community." Their best known product is marinara sauce, but they also sell artisan breads, mozzarella cheese, pasta and organic, grass fed meats.
In 2011, they opened the Awesome Sandwich Shop in Summit NJ. The next year, they opened Hoboken Farms Good Health Café's a group of New Jersy gyms.
Their sauce is sold national Whole Foods Market, The Fresh Market, Bed Bath and Beyond, as well as independent groceries.