LEEDS, ALABAMA – Curtiss Motorcycles has announced a limited edition collection to celebrate the 120th anniversary of the American v-twin motorcycle.
"Today, 120 years later, we are proud to introduce The 120 Year Anniversary Collection in honor of [founder] Glenn's [Hammond Curtiss] historic achievement," said Curtiss Motorcycles CEO and co-founder Matt Chambers, in a press release.
The cycles, called The 120 Year Anniversary Collection, will feature 120 examples of the brand's flagship model, The 1, in raw, as-machined 6061 aircraft-grade billet aluminum with pigment-free seat hide and contrasting chassis panels in a choice of five classic colors: French Blue, Bayou Green, Crimson Red, Tiger Yellow, or Pure White.
Alongside the announcement of the collection, Curtiss released a video featuring journalist and former motorcycle racer Alan Cathcart's first impressions of The 1 after becoming the first independent journalist to ride the luxury electric motorcycle.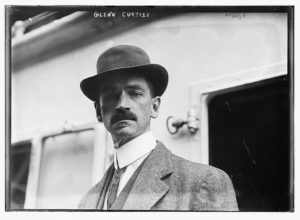 The motorcycle is scheduled to make its public debut on May 6, 2023, at The Quail Motorcycle Gathering in Carmel-by-the-Sea, California.
The Anniversary Collection is available for pre-order on the company's website, with customer deliveries set to begin in December 2023.
The original actual Curtiss company was founded by aviation pioneer Glenn H. Curtiss. In his youth, Glenn Curtiss was a champion bicycle racer, with his own brand of bike, The Hercules. He then began experimenting with motorcycle designs with the help of his wife's uncle. The aviation company followed, which still exists as the defense contractor Curtiss-Wright (NYSE: CW). The Glenn H. Curtiss Museum in his hometown of Hammondsport, N.Y. holds a collection celebrating Curtiss' life.
The current Curtiss Motorcycle brand is a redux of the brand. It was originally founded as Confederate Motors, making gas powered motorcycles in limited edition.