Racing Brand Revival Targets Niche Buyer

TURIN – Fiat has brought back the Abarth brand, and cars are being delivered to the U.K. this month. Abarth, a sub-brand of Fiat (BIT: F), is one of many car brands that have returned to life in Europe in recent years, including Mini, Maybach, Bugatti and Spyker. The brand has a great racing history; Karl Abarth founded the company in Turin in 1949, and through the years the company Abarth & C. S.r.l competed against Porsche and Ferrari.
The brand survived, though not as a complete car line. Over the years, the brand survived by being associated with customizing, including co-branded models from Fiat, Autobianchi and Lancia, including the Fiat Ritmo Abarth 130 TC. (This is a possibility for GM with Oldsmobile.)
The new Abarth is somewhere between a sports car and a Mini, with too much racing heritage to be called zippy, yet still quite zippy looking. Its offices are located in the Officine Mirafiori in Turin.
This newly revived old brand comes at the same time as Chrysler LLC announced a link-up with Fiat. Chrysler officials said that they could have a Fiat model for sale in the U.S. within two years after the company buys a 35 percent stake in Chrysler. This notice came from Chrysler's Jim Press.
Fiat Good Fit

Brand wise, makes sense that Fiat is interested in Chrysler, and if it goes through, Fiat would be a perfect partner. Chrysler has dealers that are desperate for decent cars to sell, and adding all or one of the Lancia, Alfa Romeo and Fiat brands to the Chrysler dealer lineup would be a great jolt to long-suffering folk. In particular Fiat and Alfa Romeo have great brand equity in the U.S.; the influx of immigrants from Europe, the Middle East and Africa in the last two decades also means that there are large audiences for those brands here in the U.S.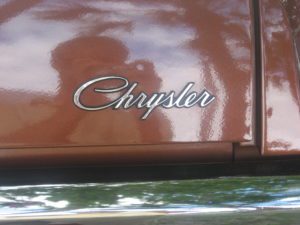 In addition, Fiat would know how to give advice to Chrysler in the sales of these small cars. After all, Italy is highly unionized, has expensive labor and is, by all means and ways, a quite impractical country with nothing efficient about anything. But there is a way around those things. In fact, there is a way around everything that isn't practical. It's called being clever, ingenious and passionate, and Fiat is known for its automated production.
Daimler was the wrong partner for Chrysler, and they ruined it. They did not appreciate what they had, and they tried to make the company into something it wasn't. At Daimler, they were used to doing things in a quality way, with the best materials and workmanship, the costs be somewhat ignored. Chrysler hasn't had quality in a long time, but at at their best Dodges and Chryslers are inexpensive, easy to repair and quite straightforward, making them cheap to keep. Another reason why Fiat is a good partner is that Fiat is scrappy.
Chrysler has a long affinity for Italy and Italian design. Interestingly, it was Chrysler during the Lee Iacocca era that partnered with Maserati to produce the short-run production of the Chrysler TC by Maserati. Imagine making Maseratis on a K-car chassis!
Fiat understands branding, and its actions with a marque as small as Abarth shows that they understand what they have in Chrysler. Strangely, if Chrysler and GM can make it through the next year or so, Chrysler might have some teen-tiny advantages. Being broke, it has to be clever. And being desperate for new models means it will try new things. GM, meanwhile, has tons of different models, and not alot interesting in the pipeline. Chrysler, however, if it had Fiat as a partner, would suddenly not only have a large number of new Chrysler models, but would potentially have a lineup that was almost completely new. Add to that Chrysler's minivans (GM has none) and you suddenly have something very interesting.
Over a year ago, we wrote a piece on the Plymouth brand, and how it was a mistake for Daimler Chrysler to kill it. With the Fiat partnership, we could easily see it coming back, even as a one-model sub-brand of Chrysler. The reality is that Chrysler dealers have no economy cars to sell, and economy is the niche of Plymouth.
Last fall, we wrote a piece (only slightly) in jest, joking that perhaps General Motors could sell consumers an Oldsmobile Switcheroo Kit. This kit would be sold to Saturn dealers, who could pop the ugly Saturn badges off of Saturn cars and turn them into Oldsmobiles. These newly badged Oldsmobiles would be cars that old people would actually buy, and cars that young people would think are cool (the only people who think Saturn is cool are 55-year-old boomers).
Idea for U.S. Car Manufacturers to Steal:
What is fascinating about Fiat's Abarth brand is that there is a VERY small management staff for the brand, and part of the company's leadership is a hands-on racing team. In addition, at the company's headquarters at Officine Mirafiori, there is a small area where short production runs of the cars can be made, as well as a repair shop and Abarth museum. This sort of low cost idea could be used for any of the dormant U.S. brands (Plymouth, Oldsmobile).
It is ironic that Fiat uses its historic old plants as museum/offices and research facilities. American automakers just tear the buildings down and leave the town in rubble. It's a great message to tell the community; everything we do is disposable.
A niche approach like Fiat Abarth might be a good way for General Motors to preserve the equity of the Hummer brand and realize some profits from it, as a sort of profit making "halo car" built for the specialty market.