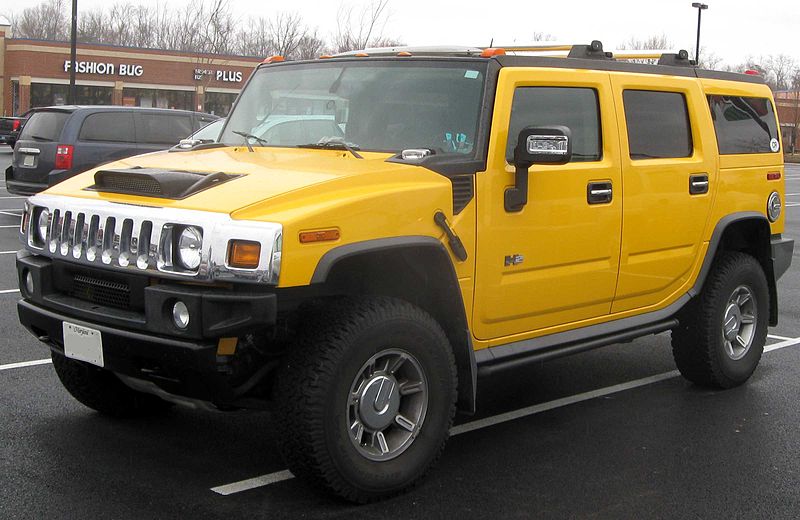 The Hummer brand, the descendant name of the Gulf War-era Humvee, will apparently "relaunch" in 2022, with a planned Super Bowl commercial, according to The Wall Street Journal. It will be electric, and a new model for GMC. Early reports did not have it as a revival of the Hummer make, only a revival of the name as a car model. The ad will reportedly feature LeBron James.
Hummer began as a civilian version of the High Mobility Multipurpose Wheeled Vehicle, or Humvee, made by AM General. That vehicle was a replacement for the famous Jeep, which was first made by Willys, renamed Kaiser Jeep, and later purchased by American Motors, later purchased by Chrysler. The defense business did not come with the sale, hence AM General. GM purchased the civilian rights to the brand in 1998 from AM General. That original car became the Hummer H1.
Today, the Humvee is still very much in use and production. However, its successor vehicle is the very different Joint Light Tactical Vehicle, a product of Oshkosh Corporation that is powered by a GM Duramax engine. Reviews are mixed about the vehicle; it has the problem that it needs to act like a tank, but be as nimble as an off-road SUV.
Death in 2009, Perhaps Prematurely?
GM, meanwhile, killed Hummer in 2009, and did not find a buyer for the civilian marque. A Chinese company at first wanted to buy the Hummer brand, but it fell through, and GM eventually sold its inventory.
The Hummer was a mistake for General Motors. The purchase portrayed GM as a maker of fuel-inefficient cars, and the whole exercise took time and attention away from their main product line, which became ugly and poorly engineered. This ultimately resulted in the killing off of Oldsmobile, and later Pontiac. A GM dalliance with Saab didn't help. Yet, GM might have killed it off too soon, as the SUV market took off as the economy recovered.
Other than visual cues, the new Hummer will apparently be fully electric, much smaller, and a lower-volume car. GM has not released photos.
Technically, there is still a Humvee on the market. General Motors Vice Chairman Bob Lutz, entrepreneur Gilbert Villarreal and auto designer Henrik Fisker run the brilliantly though out, but weirdly named, VLF Automotive. It's really a specialty custom car outfit. It is interesting, however, that there is a market for these specialty cars.
Lincoln scored a major hit with the Coach Door Lincoln; it was a custom model sold by dealers. They sold out all the production their first year. The Lincolns were regular model Continentals made in Flat Rock, Michigan. They were then sent for modification at Cabot Coach Builders in Haverhill, Mass. There is also a revived Trans Am made by Trans Am Depot in Tallahassee, Fla.; it has licensed the name, rebuilding the Trans Am from a production line Camaro.
Makes or Models?
It has been a tradition at all U.S. automakers over the years to blur the differences between models and makes when convenient. Ford, for a time, promoted the Mustang as a stand-alone; it also sold Merkur, a German-made Ford sold at Lincoln-Mercury dealers. This is the same trick that Buick played with Opel, when it sold the German imports at Buick dealers. Chevrolet also promotes the Corvette without all of the Chevrolet bowties. While most call it a Chevy Corvette, the bowtie is hidden in the logo.
Chrysler also did the badge hiding exercise with Ram trucks, which were first Dodge Ram trucks. They dropped the Dodge brand, and eventually it became a separately advertised car make, albeit ones sold at Dodge dealers. Chrysler's Imperial was also offered as a model separate from a Chrysler; back in the mid 20th century, Imperial, Plymouth, Chrysler, Desoto and Dodge were all separate makes. Imperial survived as a separate marque between 1955 and 1983. But by the 70s, DeSoto was gone, and the Imperial name survived for a time as the Chrysler Imperial.
In recent years, Ford has revived the Bronco and Ranger, and Dodge's Challenger/Charger has been a great success. Fiat Chrysler keeps saying it will bring back the beloved Jeep Wagoneer.
GM would do well and look at its historic legacy cars and brands, especially what interests the collector market. With the universe of car modification companies, all sorts of interesting experiments in revival are possible. And with battery cars, there is less engine space needed. That means that it is easier to stick a new face on the same chassis.