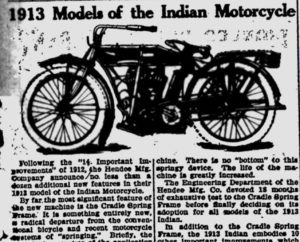 MINNEAPOLIS – For its centennial of its Indian Chief model, Indian Motorcycle has unveiled three new Indian Chief models for 2022.
"The Indian Chief is a truly iconic motorcycle and what better way to celebrate its 100th birthday than unleashing an entirely new Indian Chief lineup," said Mike Dougherty, the company's president of motorcycles, in a release. "These bikes capture the mechanical simplicity and attitude of classic American V-twins, yet bring it all forward with modern sophistication and features."
Pictured above is the Chief Bobber Dark Horse which starts at $18,999 and is available in Black Smoke, Titanium Smoke, and Sagebrush Smoke. (Photo: Business Wire)
The company began in 1901 in Springfield, Mass., as a bicycle manufacturer. By the early 20th century, it was the largest maker of motorcycles in the world, but has been through multiple owners.
The company is a lesson in brand survival. Like a cat, it has had dozens of lives, and owners. Perhaps the nadir was 1977, when the trademark sold for $10,000, and American Moped Associates purchased the brand. They rebadged old discontinued Honda PC50-K1s and turned them into the AMI-50 Chief.
The brand died in 2003, and then restarted in 2006. In 2011, it gained new strength as it was purchased by Polaris Industries, maker of ATVs, snowmobiles and small defense vehicles such as the MRZR and DAGOR, for Deployable Advanced Ground Off-road. The latter is a small vehicle that can be dropped and sling loaded by UH-60 Black Hawk helicopters. The Defense Department connection has been an important part of the company, particularly in the two World Wars.
New Models
Indian Motorcycle designed the new Chief to have a simplistic and mechanical aesthetic that pays homage to the original.
The Polaris ownership of the company has been an advocate for using historic names and designs. They brought back the company's Indian Scout in 2015. Chief models reintroduced include:
Chief, Chief Bobber, Super Chief: These models feature analog gauges and a 111 powertrain, and are available with or without ABS.
Chief Dark Horse, Chief Bobber Dark Horse, Super Chief Limited: These models have Thunderstroke 116 engines, with ABS standard, and premium finishes. Chief and Chief Bobber Dark Horse models have premium gloss black finishes, while the Super Chief Limited a chrome finish. Oddly, these models have a "Ride Command" system that works with cellphones and bluetooth allowing riders access to phone information, including recent calls, contacts, number pad and text message history.