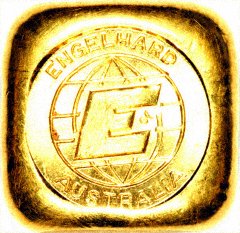 What if you had just bought a company that inspired one of the most cool movies ever, Goldfinger? If you bought that company, wouldn't you find some way to preserve the brand name?
Not if you are the German company BASF.
It has been just over a year since BASF AG announced its hostile takeover of Englehard Corp. of New Jersey. And if you go to the Engelhard website, you see the most rude little announcement of the disappearance of an American company and brand name ever. It reads "In June 2006, Engelhard Corporation was acquired by BASF – The Chemical Company. The Engelhard web site has been shut down. For additional information please select one of the following links:" Thanks but no thanks. I am too sad to do it, but keep searching. You have to look deeply in the U.K. site to find that the company is, seemingly, keeping the Engelhard Metals Limited brand alive as a part of their U.K. operations. Phew. At least a little piece of the brand is still alive!
The acquisition not only means the canning of 800 workers. It means that yet another great American business name is mostly gone. It is a stunning loss for American business history, and the American memory. And its particularly odd that BASF is canning the Engelhard brand when it is buying full page ads in The Wall Street Journal to promote its Ecoflex decomposable bag plastic. Nothing wrong with decomposing bags, but we thing a good gold and silver brand might have a much longer, perhaps millenial, trajectory.
Engelha
rd was one of those great American companies, and the Engelhard son, Charles Engelhard (1917-1971) was one of the greats. The company owned the precious metals field for decades. The company was so well known, and had such a mystique that Ian Fleming based his horse-loving tycoon Auric Goldfinger on Charles Engelhard. But Engelhard wasn't into plots to rule the world. Instead, the company took its leadership in precious metals and turned it into technology. The most amazing area of technology leadership? How platinum could take carbon monoxide out of the air. The invention was the catalytic converter, and it protected the world from poison emissions.
Historian and researcher Stephen Yautz, a New York-area historian of SMY Historical Services, has studied the company and Engelhard, and has lectured on the history New Jersey native's life. His lecture (note to book publishers: this would be a great book) is "Charles Engelhard, the Real Goldfinger." His description of the most colorful aspects of the Engelhard life tell why this brand will be so missed:
"One of his most famous ventures was in South Africa– he developed a business relationship with the Oppenheimer family there, which controlled the diamond industry (DeBeers). Through this relationship, Engelhard was able to hatch his most infamous scheme. South Africa maintained restrictions on the quantity of precious metals (especially platinum) that could be shipped out of the country, with the exception of works of art.Engelhard then set up a company in South Africa that manufactured art objects from these metals, and shipped them to Hong Kong, where the metals were melted down into bullion.

The story lives on in Ian Fleming's Goldfinger. Apparently, Engelhard met Fleming through his London-based banker, Robert Fleming and Company, which was founded by Ian's grandfather. The two men visited at each other's homes on occasion, and Ian was said to have marveled at the opulent lifestyle that Engelhard led, and especially at his precious metals import scheme."
The company is still known for its bullion and ingots. Says Yautz, "Engelhard was indeed known for its ingots, but eventually discontinued manufacturing them after the 1980s." , Today, they are apparently highly collectible, and will perhaps live on to the next milllenium. Check in at the website Tax Free Gold for a few samples (including the gold ingot pictured above); their website claims the Engelhard gold ingots are hard to get.
Thankfully, the most recent merger was resisted by Engelhard insiders. "By 2005, BASF bid to buy Engelhard in what was termed as a hostile takeover," says Yautz. "For a while, many at Engelhard strongly resisted this merger, as it would ultimately lead to the demise of the Engelhard name," Yautz says. "And that is exactly what happened once BASF successfully took over Engelhard."
Bond association 'gold' for any brand
An association with James Bond films is gold for a brand. For instance, Aston Martin was just voted Britain's coolest brand, largely on positive Bond associations. Click here for the BBC story. Why
doesn't BASF understand this?
The death of this great American brand name is not just about the shutting down of a company. It is about a wasted asset, a great American branded product that is no more. Charles Engelhard Jr. was known as the Platinum King; the precious metals tycoon died in 1971 after making his father's New Jersey company synonymous with silver, gold and platinum.
So what would have happened if Engelhard had been purchased, and BASF extended the Engelhard brand equity, instead of mostly ditching it? By ditching it, Engelhard risks letting its trademark "go generic" and letting Engelhard become genericized. There is no reason to run that risk; it's as good a brand in precious metals as Britain's Johnson Matthey.
New uses for the storied Engelhard brand
First, it would be perfect if BASF just simply continued to use the Engelhard Metals Limited name, and Engelhard Industrial Bullion standard as a brand for their precious metals operations. Even with commodities, people want a brand name associated with it. We quote press information:

"Engelhard ensures the timely delivery of metal in the form and purity required by our external client base. The Engelhard hallmark and assay certificate is recognized globally as "Good Delivery" in all relevant precious metals markets. The Engelhard Industrial Bullion prices are recognized as leading benchmark prices for consumers of precious metal products. Engelhard is an active member of the London Platinum and Palladium Market and participates in the LPPM Fix."

Engelhard could be licensed as a banking brand, with the symbolism of silver, gold and platinum behind it. This would be ideal for a start up company.
BASF could license the Engelhard name to companies like The Franklin Mint or Danbury Mint for reproduction gold and silver coins.
BASF could use Engelhard as a consumer gold "brand" gold at jewelers, just as Swarovski does. Like Swarovski, which has "branded" the seemingly generic commodity crystal, Engelhard could be a luxury brand of the commodities of platinum, gold and silver as it has already branded itself as quality assurance. Turn Engelhard into a sort of ratings and test agency for quality precious metals. Any jewelry which contained "

genuine Engelhard

®

gold"

would be of extra value to consumers. This is an area where

Goldfinger

associations REALLY work.
BASF should ensure that the most important historical records of Engelhard the company go to a historical archive like New Jersey's before it is too late. While there is certainly proprietary information in it, the company can redact that legally with archivists so it is not seen, or hold it until it is no longer valuable competitively.
BASF is a wonderful, respected company, but it would have a much more vivid connection with the U.S. if it kept the Engelhard brand alive in a larger way. Americans know what Engelhard stands for; BASF not so much. Gosh, they have to advertise so much, to little avail. So how about it BASF? Keep the legacy of Charles Engelhard alive, even if it has to be just one little business unit, sub-brand or licensing division. This will protect the brand name of Engelhard. Like an old gold mine in South Africa, the Engelhard brand could print money for decades out. This would only add, not detract, from the BASF mystique.
A note of hope. We should recall that BASF also disappeared as an independent company in 1925, and was merged into the German chemical company I.G. Farben. After World War II, the Allied powers, according to Britannica, brought back the old German company names Hoechst, Bayer and BASF when it split up the company. Thanks to an American victory, BASF became an independent company again in 1951 and the BASF brand was not lost. We'd hate to wait 30 years and a World War to get the Engelhard name back, but we are patient folks here at BrandlandUSA.