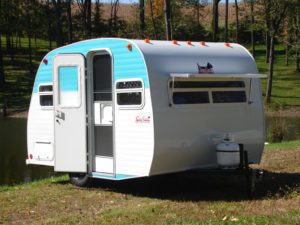 When one thinks of vintage travel trailers, Airstream always comes to mind. That company has mined its history so much that a new version of a classic Airstream camper has been designed by Design Within Reach.

But in recent years, as Airstream has become hip again, hipsters have sought the NEXT thing. For some, they found Serro Scotty, a cute travel trailer brand with a Scotty logo. The brand lived from 1947 to 1997, when the factory apparently burned. The company that made the original trailers is now Mobile Concepts by Scotty. The company is known for custom-made mobile fire and police department base camps that are used for disasters, community policing and other emergencies.
But recently, Serro Scotty came back; a website photo is above. It exploits a weakness in the RV industry. Today, except for the Casita, Egg Camper, Scamp, iCamp, T@B and Airstream and a few others, most mainstream RV's look like really bad tract houses. But it wasn't always that way. Through the years there have been dozens of innovative RV brand names, and many fun design concepts like Serro Scotty. Many are gone; some designs and brands could be easily revived as the industry has low barriers to entry.
As with any product brand has been kept alive, it was volunteers who restored many of the old campers and created enthusiasm about the brand, all connected by the National Serro Scotty Organization.

The Gaucho 13′, seen above, comes with a great aquamarine color; its list price starts at a snappy $12,500. Buy one.