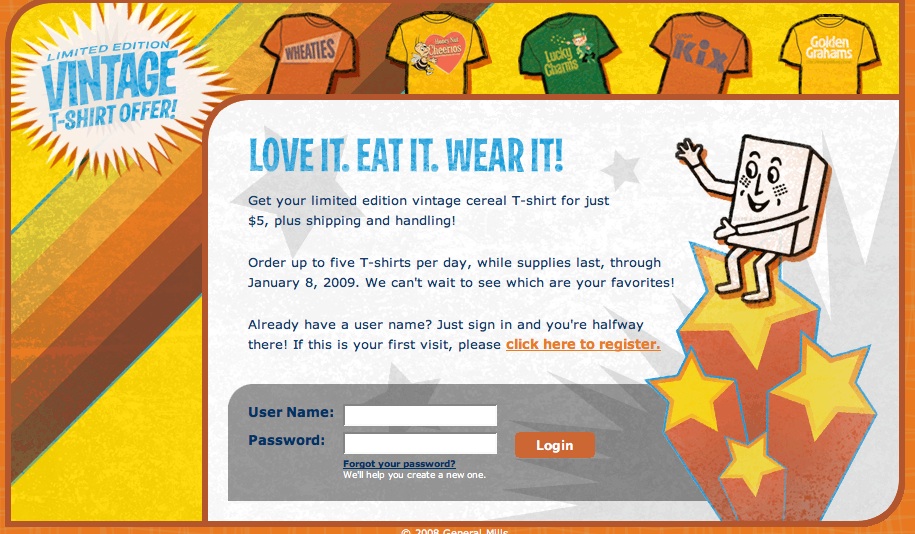 What to do when you have a great, old brand with a great history and you need a new trick?
Release a classic version of the product.
That's just what Golden Valley, Minn.-based General Mills just did with their Wheaties cereal brand. General Mills released a vintage version of the cereal, and put it right at the checkout line at Target. It was on shelves this March, 2008. They obviously paid dearly for the spot, as it was by the checkout lines.
In case you might miss the fact that the promotion was about history, the company offered up a set of vintage T-shirts with General Mills characters on it. These T-shirts are only $5 and are offered with Wheaties, Lucky Charms, Golden Grahams, Kix and Honey Nut Cheerios logos.
Many companies release products in old-style packaging. It's a no brainer move, though it is surprising how few consumer products companies actually do it. Offering up the $5 shirts with the vintage package is a great companion offer; this turns what could have been a dead-end exercise in nostalgia into a forward-thinking branding exercise. The shirts, offered all year, are perfect brand advertising for General Mills as the advertising pays for itself, and builds word of mouth.
You've gotta love General Mills. They stick with it. They even keep that old, scripty "Big G" logo seen at the top of cereal boxes. They develop and preserve great brands including Dough Boy, Betty Crocker, Gold Medal and Green Giant. Love that Green Giant. A few years ago, with the company VEE Corp, these Silly Rabbits at the Big G set up Cereal Adventure at the Mall of America. It was a walk through cereal exhibit.

It is interesting that the company chose a mail in offer. Mail ins are a perfect way to win customers permanently and to develop brands. Big G has a long history with mail ins, and sometimes good surprises happen. It was with mail in offers for a flour sack pincushion (around 1921?) that the predecessor company to General Mills, the Washburn Crosby Company, developed the Betty Crocker brand. When women mailed in for the pincushion, they would ask for recipes for pies and such. Sam Gale, who was then head of marketing, decided that ALL letters should be signed and that they should come from a spokeswoman. The name chosen was Betty Crocker, and the rest of the story belongs to American brand history.