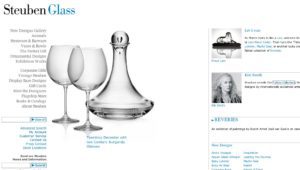 Old venerable brand. Unionized workers. Well-known. Losing money. First-rate products. Legendary brand allure. Icon.
Such is the case with Corning subsidiary, Steuben Glass. No longer is lead crystal the must-have bridal gift, and no longer is Corning willing to lose money. USA Today reports they have lost $30 million over the last five years, on sales of $25 million yearly. This is a particularly scary situation because Corning is a well-run company; the problem is that they do not know about consumer goods.
What advice?
First, one has to wonder about their glass line called Tattoo, which is inspired by tattoo artists. That's the lure on the front page of the website (pictured here), it really does not jukes up the old WASPy bridal trousseau to have that sort of grunge idea around. Other than that, they need ideas badly.
Who might buy the company?
What might be done to the company to make it profitable?
How might this be accomplished without just turning the company into a licensing firm?
Steuben saviors wanted.
A few thoughts:
1. Every girl that's about to get married needs a Hand Cooler. These glass animals, running about $100 to $300 bucks, are the perfect entry level Steuben gift. Before the wedding, there is alot more cash running around. And they make a perfect bridesmaid gift. So a big bucks wedding can mean the sale of a dozen or so.
2. Ditch the creepy Tattoo line. What kind of person is going to buy a friggin glass snake? I mean really! And even if they sell alot of these creepy snakes and such, this wiccan-type baby boomer weirdness turns off the old-line customers who still fall for Steuben. Plus, twentysomethings who would be the target audience were all reared on Abercrombie and Lilly Pulitzer. Tattoo? Please! NO MORE EDGY! Dungeons and Dragons crowd is not interested anyway (though it might be amusing if Steuben made some D&D game pieces).
3. Establish some entry-level price point items. The genius of Tiffany is their sale of entry level gifts and such. So one might buy Elsa Peretti earrings for $195, for instance. This allows the average person to get in the habit of buying a certain brand, and gets them started. When they age, and have more money, they are in the Steuben habit. The lower price items could even be sold for $75 to give to teenage girls as graduation presents. You have to get younger audiences hooked (but you don't do it with weird stuff). The Crocs/High School Musical crowd wants things that are youthful, sort of expensive, clean and respectful.
4. Find a buyer. A buyer that has something to gain by ownership, perhaps outside the U.S., might be hard to swallow, but it might be the best answer. For instance, an Asian company that wants to get into the luxury goods market across the world would do well with Steuben. They would have an insta-dealer network in the U.S. and in luxury stores across the world, and also have the ability to create a lower tier Steuben brand, while leaving the main Steuben line intact. The operation in the U.S. would have craftsmen making the top line stuff and designing the second tier stuff in the U.S. for manufacture overseas where labor is cheap. Tata is buying Land Rover and Jaguar. Why not. What might be some options? Perhaps Tata Ceramics or Jaipur Ceramics Private Limited. Or is there a luxury goods partner like Neiman Marcus, which owns Horchow.
5. The association with Pyrex made sense for Steuben. When Corning started licensing out Pyrex, a great thematic link was broken. When Pyrex was part of Corning, Corning gave Pyrex credibility as a great piece of design and technology and quality. Corning's ownership of Steuben connected with Pyrex. Today, Pyrex is sold by the cooking firm World Kitchen LLC, apparently under license from Corning. World Kitchen owns brands like Revere, Ecko, etc. Corning pretty much ruined Revere Ware, a company it bought in 1988. Revere Ware used to be in every bridal trousseau, but they lost their market. The reason? Steuben was about glass. Corning was about glass. And Pyrex is about glass. Glass. Not housewares. Perhaps World Kitchen could buy Steuben, reunite it with Pyrex, and spin that company off into a public luxury branded company?
6. Take a Coach or Harley approach. The companies Harley Davidson and Coach have taken rusty American brand names and revived them. While each has had ups and downs, the business model is simple. One buys Coach and Harley Davidson because one aspires to be a certain type of person. A cult develops. More people buy, and a brand is re-established.
7. Perhaps the big New York museum store has to go. The overhead of operating a big store is daunting, and only the largest consumer brands like Disney and Apple can operate such palaces as advertising venues. How much of that loss over the last years is attributed to the store? Steuben would do better to have a boutique in a luxury department store like Henri Bendel. Then it would take just a few staffers to sell to the carriage trade.