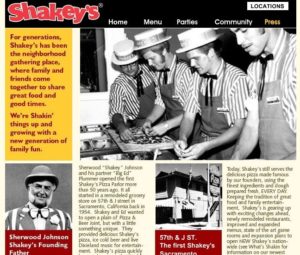 Who wants to go to Shakey's Pizza?
If you were of a certain generation, everyone did.
My personal memory is of a pizza parlor on Virginia Beach Boulevard near the Princess Anne Plaza shopping center in Virginia Beach. The "parlor" was small. A player piano played bad Dixieland. Badly edited Laurel & Hardy, Abbott & Costello and Three Stooges shorts played on a screen in a continuous loop. Staff wore striped shirts. It was different.
There was pizza for everyone, pitchers of Coke for the kids and beer for the parents (now we know why parents liked to have birthday parties there.).
The chain was founded April 30, 1954 in Sacramento, by a man named Sherwood "Shakey" Johnson who turned it into a national franchise operation. But over the years, and with a succession of owners, Shakey's declined, and became a regional chain again. Today, the chain is coming back, with a new concept and a new restaurant design. Pretty interesting, and the new concept has the old signage on the wall.
It's a full service restaurant, with video games and a more slick design. The company is owned by The Jacmar Companies, a home builder and real estate firm in California that owned an early franchise. The re-launch leadership included CEO Tim Pulido (who apparently has left for Mimi's Cafe), Executive Vice President Joe Remsa and Director of Marketing Cindy Staats.