---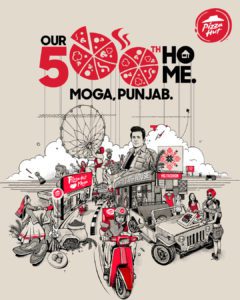 NEW DELHI — Pizza Hut has launched their 500th store in India. Pizza Hut's 500th store was inaugurated in Moga, Punjab by actor and philanthropist Sonu Sood.
"We are truly humbled and grateful for the unwavering love and trust of our customers and thank them for this momentous achievement. We also owe this success to our franchisee partners and the entire extended Pizza Hut family," said Merrill Pereyra, Managing Director, Pizza Hut Indian Subcontinent.
Pizza Hut opened its first store in 1996 in Bangalore. The India version of Pizza Hut is a localized version of the traditional Pizza Hut menu, with a wide variety of pizzas which customized to the Indian palate. Pizza styles include Tandoori Paneer, Veg Kebab Surprise, and Chicken Tikka Supreme. The brand has pan pizzas with stuffed crust variants such as Veg Kebab, Chicken Seekh Kebab and Cheese Maxx.
Pizza Hut, founded in 1968, is a subsidiary of Yum! Brands, Inc. (NYSE: YUM). It operates over 18,000 restaurants in over 100 countries.