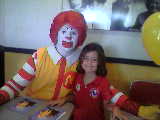 McDonald's (NYSE: MCD) knows what it is doing.
How do I know? I saw Ronald McDonald in action, first hand, when Ronald McDonald made a visit to our local Sarasota McDonald's. It made me again see how a great company controls its brand. And it made me realize how McDonald's should never be underestimated in anything it does.
I had not seen Ronald for years. Years. Except on TV. But on his visit, Ronald embodied what has happened to McDonald's. Here's how Ronald did it:
Ronald was well turned out. Ronald's party was fantastic, and at least two handlers organized the kids to meet him. His yellow suit was immaculate and bright yellow, and white collar was perfectly pressed. The makeup and hair were also perfect; nothing was soiled or out of place.
It was very competent. A regional executive supervised the evening; while in a pressed "M" golf shirt, he still was not beyond picking up the trays and wiping down tables. This is the oldest trick in the book of restaurant management; the guy that's in charge wiping down tables. It sends a message to customers that the whole staff cares, and it sends an even better message to the staff that no one is more important than the work of pleasing customers with a clean table.
The staff was part of it. While teachers showed up to serve ice cream, the staff was having fun too. At one point Ronald told the kids he needed to go back and visit with the crew. Ronald then went into the kitchen and talked to the cashiers and cooks, and signed autographs. This was for a good 20 minutes. And the staff ACTUALLY wanted signed autographs. That sort of interest can't be faked by employees. He was greeted so well by the staff that it made me think he was actually back there talking shop with them.
The kids turned out. They were lined up the whole time he was there, from 4 p.m to almost 7. Ronald asked them, in a normal, friendly voice, if they were playing sports and if they were doing all their studies. With so many character costumes, the kids are creeped out, even sometimes at major theme parks. He did not speak to them in baby talk, or make them hug him or sit in his lap. Instead (and this was brilliant), the kids would sit across the table from Ronald would talk to them as a normal friend.
They plugged Ronald McDonald House Charities. Having firsthand knowledge of the Ronald McDonald House in St. Petersburg at All Children's Hospital, I can tell you it is a very fine charity, and a much more nice operation than most of the 501 c 3 charities that I have known firsthand.What it says about McDonald's is something else; that it is a company that has a firm sense of itself, its abilities and its place in the world.
They solidified a relationship with the schools. Our school, Philippi Creek, had a bonanza as it got a percent of the take. Doing this sort of event takes alot of planning and thought, and to pull it off well speaks volumes for McDonald's management depth.
Every sort of parent was there. Every income, every sort of car, every political bumper sticker. In some circles, it is quite fashionable to criticize McDonald's, but if this parking lot was any indication, America isn't buying the Super Size Me and Fast Food Nation propaganda.
Monopoly was back! This is a personal favorite, but it must be a favorite of lots of others, as the McDonald's Monopoly game was back as a McD's promotion. Hasbro wins on this one, yet again. And I hope I win some free fries too! Seriously, though, McDonald's knows how to do a first-rate promotion. I'll be heading back for Park Place, thank you!
At its lowest, McDonald's was just under $13 a share in 2002. At its five year peak in August 2008, the stock was at around $68. Today, at around $57, it is pumping out 50 cent quarterly dividends. That's respectable performance. At its low point, one worried about the future of America when McDonald's couldn't keep the tables and bathrooms clean.
But after meeting Ronald today, I would always bet on McDonald's.