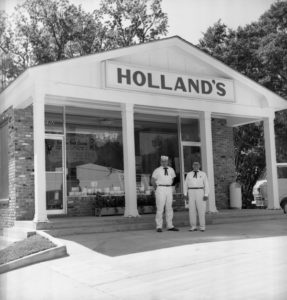 MIAMI – It has been now 50 years since entrepreneur Al Copeland of New Orleans created Popeyes in the New Orleans suburb of Arabi. The Louisana-born chain was one of the many Southern chains inspired by the success of Kentucky Friend Chicken, and opened June 12, 1972, as Chicken on the Run. It is one of a long line of Southern chicken chains, of which there are many. Most are highly successful and endure to this day.
Charleston Wilson, a native of Alabama, was a hospitality entrepreneur and consultant to restaurants before his career turned to ordained ministry. A lover of all cooking, but particularly Southern cuisine, he says the idea of chicken and the south has alot to do with church.
"From Chick-fil-A to Churches Chicken, it's all about Jesus and fried chicken in the South," said the Rev. Charleston Wilson, rector of Church of the Redeemer, Sarasota. "I was thirty years old before I knew you could have a funeral luncheon or reception without fried chicken!"
Somehow, the South has been an incubator for these chicken fast food restaurants. Popeyes is but one of a remarkable list of Southern chains. Unlike burger chains, chicken chains seem to find success and not take away from the success of other chicken chains.
And chicken chains seem to be able to exist as an independent restaurant, a small local chain, or a larger national or international chain. Economies of scale apply to the business model, but because of the simplicity of cooking chicken, an independent store can compete just as well.
Growing up, there were some favorites in Tidewater Virginia. In Virginia Beach, there was Pollard's Chicken (no relation to me). And in the Northern Neck, there was Crosby's. Their unique touch was serving the fried chicken with special Crosby's sauce, and serving the chicken on white bread.
Fried chicken also exists at the grocery store level. Because it is a pain to cook at home, supermarkets and convenience stores gain followings for certain styles of cooking fried chicken. Every state and region has favorites. (no egg is best.)
In Virginia Beach, Farm Fresh, for instance, had a following. Their store recipes may have been carried forward from the superb offerings of supermarket Giant Open Air, the Virginia chain founded by in 1944 by Vincent Mastracco and nephew Wendell Rosso. The Little Sue convenience store chain, omnipresent on the Middle Peninsula and Northern Neck, even had a recipe. And in Richmond, Ukrop's had its own style, which is continued by Ukrop's Market Hall.
Top Southern Chicken Brands
A timeline of Southern fried chicken should include, but not be limited to, these dates:

1934: Harlan Sanders begins selling chicken in a North Corbin, Kentucky gas station, and what will be The Sanders Court & Cafe. He later franchises his chicken recipe as Kentucky Fried Chicken.
1952: Church's Fried Chicken To-Go, founded by George W. Church Sr., opens April 17, 1952 in San Antonio. There are now around 1,700 franchised and company-owned Church's locations. Church's sister brand is Church's Texas Chicken (in the Americas) and Texas Chicken (outside the Americas).
1957: Bud Brinkman founds Bud's Chicken and Seafood in Palm Beach County. Bud's began as a single unit, take-out restaurant. The original menu featured a wide variety of items, but consumer demand began shaping Bud's into a restaurant specializing in southern-style fried chicken, seafood, and homemade salads.
1964: Virginia's Golden Skillet, founded in 1964 as a spin-off of the Thalhimers department store, opens its first location. There are only a few Golden Skillet's left. The chain was purchased by Dairy Queen, but they had no clue what to do with it.
1965: W. O. Giles founds Chester's Chicken in Birmingham, Alabama.
1966: Lee's Famous Recipe Chicken opens. Lee Cummings and Harold Omer open "Harold's Take Home" restaurant in Lima, Ohio where Lee introduces his Famous Recipe chicken. Not technically Southern but omnipresent in the South.
1967: The first Chick-fil-A opens, a spin off of founder Truett Cathy's Dwarf House.
1967: Howard Walker opens Golden Chick in San Marcos, Texas. There are now over 200 locations.
1972: Popeyes founded. Popeyes is now headquartered in Miami, after its 2017 purchase by Restaurant Brands International, owner of Firehouse Subs, Tim Hortons and Burger King. It is also in South Korea, France, India, and Romania adding to existing international markets and looking to expand in China, United Kingdom, Spain, Brazil, Philippines, Mexico, Saudi Arabia, Vietnam, Switzerland, and Sri Lanka.
1977: Bojangles of Charlotte, N.C.; it has more of an emphasis on breakfast.
1990: Zaxby's, founded in Statesboro, Georgia by Zach McLeroy and Tony Townley. They now have almost 1,000 locations.
1996: Raising Cane's specializes in chicken fingers, in over 500 locations. Founded by Todd Graves in Baton Rouge, Louisiana, in 1996. He was a boilermaker in a Louisiana oil refinery and a salmon fisher.
1996: Bush's Chicken, founded by Keith and Charlene Bush in Waco, Texas. There are now about 70 locations.
There are dozens more Southern chicken chains, some smaller. And room for many more start ups. And there non-fried chicken chains as well, including:
Pollo Tropical, a Florida-born chain founded in 1988
Chicken Salad Chick, founded in 2014 by Stacy and Kevin Brown. The franchise is now 205 restaurants across 17 states.
In the roundup of chicken restaurants, wings restaurants are not included. They are a separate genre, and not really about the chicken, but the sauce, and the alcohol that you eat them with. They are more sports bars.
Question? What other Southern chicken brands are out there? And what are some local favorite independent restaurants?