CHERRY HILL, N.J. –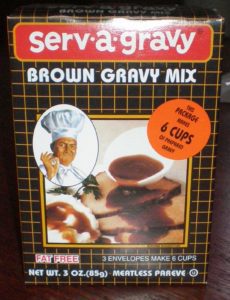 While big brands have taken over most grocery shelves, there are some classics that still manage to make it on major grocery store shelves.
Take the case of Serv-A-Gravy, a product of the Serv-Agen Corporation of Cherry Hill, N.J. Made right outside of Camden and Philadelphia, it's proof that the independent brand and company still has a place in the nation's food chain, all at 1200 S. Union Avenue. It reminds us of that great time when New Jersey was like China, and they made all sorts of cool things there. Especially things like Serv-A-Gravy, with a chef on the front!
There isn't much information on Serv-Agen or Serv-A-Gravy on the web, except we could find out that the company except that their website says that: "Serv-Agen has been serving Cherry Hill, New Jersey and the surrounding areas since 1936. Through our quality products, attention to detail and prompt service, we have built a solid reputation of customer satisfaction."
It's made of simple ingredients, including flour, salt, caramel color, corn protein, onion and celery power and other spices.
BrandlandUSA Rule
There is room for niche brands and niche companies. While it is hard to get on the shelves at Wal-Mart and Target, many grocery store managers at traditional supermarkets have leeway in what brands they can stock in their stores, if there is sufficient demand. Small niche brands with no advertising and promotion still have a chance if they have loyal audiences.
Editor's note…there is no contact information available.