What happens when you have a 200-year-old insurance brand name and some smartsy fartsy "branding" and "marketing" people get involved? The brand dies in favor of a name that would be better as a diet pill.
Believe it or not, it happened recently with the U.K. insurance company Aviva, which is dumping its two centuries old Norwich Union brand name for Aviva, a name that sounds very much like the name for a sexual enhancement drug. Their rationalization, according to The Guardian newspaper, was that you would save on advertising by having only one brand.
Norwich Union has a great brand story. It was started by a wine merchant named Thomas Bignold in 1797 when he had to insure against highwaymen. Seen above, the Norwich building, as taken by an admiring Indian-born blogger Indiagenie. It's called Surrey House, and it is one of the most notable in the U.K. In the move, other brands would go, according to The Guardian, including Hibernian and Commercial Union Poland. We wonder what they think of this in Ireland and Poland. Not a lot, actually. A quick search on the internet revealed that the Irish want to drop policies in favor of companies that like to employ Irish people. How parochial of them!
Andrew Moss, the Head of Aviva (now that sounds great!) rationalized his decision by saying that folks outside of the U.K. would not know Norwich Union and so Aviva would be be better. They have to "compete with peers" on an "international stage." Perhaps that "international stage" would include all Hibernian claims officers it is planning on making redundant and shipping off to Bangalore from Ireland? A name change is happy diversion from other issues, like policyholders thinking they have been ripped off.
Hello Mr. Moss? Do you not know that the ONLY reason Americans love to buy most British crap is because it has a British brand on it? British names are trusted around the world. Americans trust Britons with things like insurance, especially if a brand has been around for 200 years. Ever heard of Lloyd's? Particularly in things like insurance, it is important to keep old brands around because you are dealing with issues like death, trust, money and security. There is security in an old name.
One of the brand killers at Interbrand was quoted on the issue by The Guardian.
Branding consultants defended Aviva's name change, predicting that any furore will be long forgotten in a decade's time. Rita Clifton, the UK chairwoman of the world's largest brand consultancy, Interbrand, says: "Increasingly international companies are choosing to rebrand themselves in a bid to get away from the parochial connotations."
Clifton, who makes a ton of money for her company advocating these sorts of useless brand changes, then went on to say how well the brand name Diageo was doing. What is Diageo?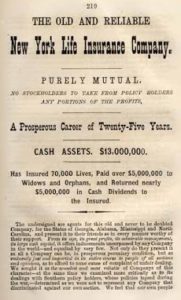 Hello? Don't you folks at Interbrand realize that Diageo didn't change its product brand names. It only changed its COMPANY name. Diageo is a perfectly appropriate name because it is a company brand, not a consumer brand. They didn't change the name of Tanqueray, Smirnoff and Johnny Walker. If they had actually done like Aviva, you would have had Diageo Gin, Diageo Vodka and Diageo Scotch. Now that would have saved a TON of advertising and removed all those pesky regional associations! Plus, branding firms make more money and create more value with a portfolio of brands, not a canned name.
Who will win in this scenario? Companies like The Hartford and New York Life. These are both regionally born brands that have trancendended their geography and are considered as gold to the millions of people who own their policies. If you are in Brazil, do you trust Aviva or The Hartford to pay up on those policies? Of course, you trust the company that is secure enough in itself to keep its own name. (See old insurance ad at right.)
There is still time for Aviva to save the name. It is a VERY simple idea, and won't cost much advertising. Use the Norwich Union name, as well as the other predecessor companies, as product brand names. After all, insurance companies have a dazzling array of different products. Use the old names on the different policies, and differentiate yourself. After all, just because Aviva tries to kill off the Norwich Union name, the name will still be alive in the minds of consumers and people who see the company's advertising and buildings like Surrey House, the one at the top of this story.
The world is far too generic. If companies are going to ship all our jobs to India, at least keep us poor chumps in Western Europe and the United States think that the policies are as good as the old.