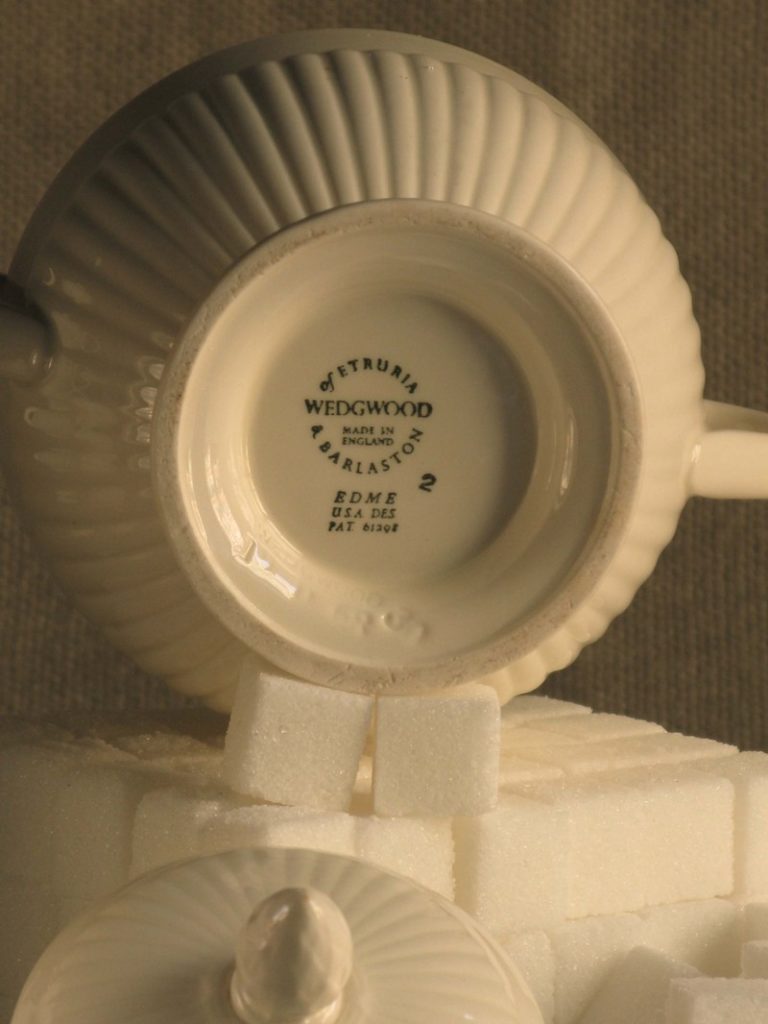 Irish and English don't mix. I hate to say this, and this is dangerous territory, but when you are dealing with such products as dinner crystal and china, it's all about selling people what they REALLY don't need. And any association between the two brands doesn't work. No one will say this, but I will. Each brand is a symbol of its own country; Waterford did not even have a continuous history and was defunct for over 100 years until it was revived. Wedgwood was as English as it could get. British folk don't want something that is a symbol of Irish national pride and craftsmanship to own Wedgwood. That doesn't mean that an Irish person doesn't want Wedgwood (or vice versa), it's just that when an Irish person buys it, she is buying something intrinsically British. This goes with an English woman, who is buying something that she knows is English.
There should be NO outsourcing. These products need to be made where they were created. Plates in Stoke on Trent. And lead crystal in Ireland. Period. Period. You outsource TV production, not wedding china. Were did these folks who ran the company get this idea? Also, outsourcing NEVER factors in the time cost of dealing with the outsourcing. Nor does it account for what happens when craftsmen are half a world away from your sales, marketing and management.
There should be NO licensing. Part of the value, and upholding high prices for luxury goods, is a brand that is discreet, and rare. Having less of it around makes the value of the product go up. Do not try to fix the company by licensing this brand to others. It will make the problem worse.
Emeril. Emeril? Is that a joke? This Wedgwood marketing partnership is proof that the company was FAR astray from its core market. Emeril sells cheap spices, and throws Oreos to his audience. That one measly cent went to any sort of marketing partnership with his brand is a no-no that will take YEARS to undo. If somehow they felt that Emeril was a compelling brand for plates, it should have started a separate low cost line. And we question the co-brand with Martha Stewart. Martha Stewart Omnimedia (Ticker: MSO) could easily run the company, or design a line, but her brand imprint, associated with the mass market, does not fit with Wedgwood. In fact for all of the designers, their name should NOT be on the china itself, they should just be paid for one-time design assistance.
7,700 Employees. Are they serious? High end dinner plates don't need that many workers. I don't know how many a high end workers a china factory in the UK and a crystal factory in Ireland needs, but 7,700 seems a way excessive.
Don't use the word luxury while marketing. "Luxury" sells Cadillac Escalades to Staten Island mafiosi. Wedgwood is about timeless value, and the only mafiosi women who would buy it are mafiosi women who want out. Yes, a $40 plate with 1980 prices is expensive, but when you never have to buy another one, and it brings whatever is served on it to a higher level, it is actually economical. Yes, these might be luxury goods in an pure economic sense, but that is not a marketing word.
Don't forget the Barlaston. Part of the appeal of Wedgwood was its Etruria and Barlaston line, which was not bone china, but instead a cheaper pottery for everyday use. My, the stuff was good looking; think about the pattern Edme. But if you put Barlaston into the Wedgwood website search, nothing comes up. Pictured here, Edme; mentioned in the fantastico Eddie Ross Flea Speech blog.
Rosenthal is great. Rosenthal is equally an esteemed brand in some circles, except it is known for modernist designs. Don't forget its backlist of patterns and design leadership. If anything, designers like Vera Wang should have been doing patterns for Rosenthal, not Wedgwood.
There is hope. Waterford went out of business for 100 years, and came back. It can go back into hibernation and be reborn. That would not be the ideal situation, as there are employees involved, but it is evidence that both brands will survive.
Collectors are your future. And no, we don't mean women who shop for limited edition "collectibles" on cable networks like HSC and ShopNBC. We mean serious dealers of important patterns, like Replacements Ltd., and the people who shop with them.
Go back to the past. The only way that this company survived is to be TOTALLY past thinking. Go back to the archives, and find what's cool, and start making it again. They can only think about the past, to make the company work to the future. These companies are about Jane Austen era glories, and they won't make it trying to do ANYTHING that responds to "current" fashion.