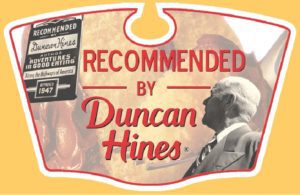 In the 20th century, one of the most notable guides to food and hospitality on the road was Duncan Hines' Adventures in Good Eating. The story is simple; Duncan Hines, a traveling salesman, kept voluminous notes on the places that he traveled in the United States. He loved good restaurants and hotels.
He got so many requests for the information that he published Adventures in Good Eating. It was a hit book; the Duncan Hines brand became synonymous with quality food. Eventually, "Approved by Duncan Hines" became like Zagat or Mobil, a coveted rating that indicated cleanliness, good taste and value. Read the reissued book by Mercer University Press by clicking on the photo above. Looking back at it, it is very well written and much more clever than expected.
The brand was so powerful that Hines created a line of cake mixes under the brand. The institute folded as the Duncan Hines cake mixes succeeded. Eventually, the brand was sold to Proctor & Gamble, and then sold to New Jersey-based Pinnacle Foods, which owns the intellectual property today. Pinnacle owns dozens of other top brands including Mrs. Butterworth's, Vlasic, Van de Kamp's and Hungry Man.
The brand position: The brand today is relegated to food mixes and baking in grocery aisles. But the brand is so much more than that. Hines' dry, frank and concise writings are classic, and the brand "position" is perfect for today's jaded, TripAdvisor-reading traveler who wants an honest look at food and travel:
Some Hines-isms:
"Whipped cream has its place. Ripe olives have theirs. Pickles are nice. But let's be reasonable."
"Have you ever tried a few drops of Worcestershire sauce on bacon before broiling? It does things to it."