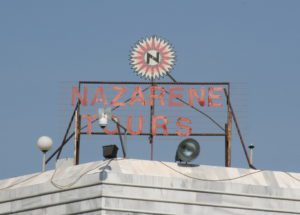 JERUSALEM – Tourism officials in Israel are making a big push at reviving interest in the sites connected with Judeo-Christian holy sites. While these places have been places of pilgrimage for 2,000 years, the renewed effort takes a real mass-market approach, and brands the routes.
For instance, a new bike route in Israel enables visitors to walk in the footsteps of Jesus. The branded itinerary is called the Pilgrim's Route leading from Israel's capital, Jerusalem, to the Dead Sea. Along the way are are sites of the Good Samaritan, the Qumran caves and the place in the Jordan where it was believed that Jesus was baptised, and is now the site of a 1,700 year old Byzantine Church.
A short synopsis of the route, from their release
Day one, Haifa and Mt. Carmel, and the story of Elijah. Start your trip at the Stella Maris Monastery, above the cave of Elijah, overlooking the Mediterranean Sea. See the peak of Mt. Carmel, arrive at the Carmelite Monastery, marking the place where Elijah challenged the false prophets of Ba'al (1st Kings:18).
Day two, Mt. Carmel to Nazareth. The home of Jesus and Mary.
Day three, from Nazareth to Mt. Tabor. The Land of Deborah the Prophet. Approx. 45 Km. Start the day by visiting Cana (Kfar Kana) to the north of Nazareth which is the place where Jesus turned water into wine (John 2:1), and is marked by the Wedding church and the Church of Nathanael . Later visit the Church of Transfiguration, a Catholic Church marking the place where Jesus Met Elijah and Moses (Luke 9:28).
Day four, From Mount Tabor to the River Jordan. Here, where the tribe of Issachar used to live, later become a stronghold for the Crusader armies in the Galilee and overlooks the ancient route along the Jordan. After visiting the site, decend towards the Jordan River.
Day five, Along the Jordan, to the Roman baths of Hamat Gader. Hamat Gader, first mentioned in the book of Joshua, are natural hot springs, built into baths from the time of the Romans. After enjoying the hot water, turn back towards Tzemah on the southern shore of the Sea of Galilee. Head towards the Yardenit Baptizing Center on the river Jordan.
Day six, the Eastern shore of the Sea of Galilee, Kursi and Capernaum. Cross the river Jordan, pouring into the Sea of Galilee at Bethsaida where Jesus cured the blind (Matt 11:21).
Day seven, the North Shore to Tiberias. Begin the day by climbing above the basin of the Sea of Galilee to Mt. Beatitudes, the traditional site of Jesus' Sermon (Matt. 5:1-12).