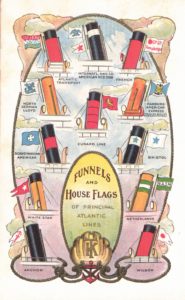 The demise of the American-flagged ship is often forgotten, though many of us who are saddened by it can also be heartened that a bit of it survives. Barely.
We tend to forget that American shipping has largely disappeared, as a result of a number of factors including general American business incompetence, complete corporate disinterest, bureaucratic restrictions and oppressive union rules that create hardships. In the face of these barriers, foreign-flagged carriers not only operate more cheaply, but operate with fewer restrictions and with the support of their government, which rightly sees their value.
Today, there is still some American-flagged shipping. Because of cabotage laws, only American flagged ships can carry goods between American-flagged ports. These laws, codified under the 1920 Jones Act, keep foreign ships out of the American trade. Like these laws or not, they are here to stay, though recent Justice Department prosecution will keep some pricing in line.
While American shipping has disappeared almost everywhere else, shipping brands like Matson, Sea-Land and American President Lines are the chief carriers of cargo between the U.S. and Guam, Puerto Rico, the U.S. Virgin Islands and Hawaii.
Pirates create opportunity
But the re-emergence of pirates has created an opportunity for the American-flagged vessel. Because the international waters have been safe over the last 50 years, the issue of protecting ships has not been an issue. Just this week, a senior defense official said that he was finding it hard to protect all the different ships off of Somalia and the western coast of Africa. The US navy said shipping firms were partly to blame for the hijackings. Vice Admiral Bill Gortney, commander of the combined maritime forces, told London's Guardian that they had ignored advice to stay about 250 miles away from the coast or had failed to employ security guards on board.
We are stunned that there is a problem with this. How lame of the U.S. Navy. But if the United States feels it cannot protect all shipping, how about that it gives escorted protection to American flagged ships? After all, American flagged ships pay extra taxes and incur extra bureaucratic costs to be American flagged. While there is no harm in protecting other ships too, and that is the collective job of all the navies of the civilized world, the added assurance of Navy protection would not only be a shot in the arm to the American-flagged fleet, but would severely reduce insurance costs, and even up the field a bit.
Here are some of the best known American shipping brands, all members of the American Maritime Congress. Most don't go to the Gulf, but some do: