BELFAST – Of the great shipbuilders and shipbuilding names of the world, Harland & Wolff is perhaps the best known. In its era, it was the Boeing of shipbuilders. So it is tragic that this great maker, such an important part of maritime history (and British and Irish nationhood), is in danger of closure.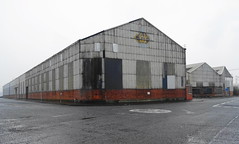 The company is out of money, a result of the bankruptcy of its parent company. Founded in 1861, Harland & Wolff is the builder of some of the best known ships in the world, including the Olympic class White Star Liners. Over the last 150 years, it built literally hundreds of great ships, other than Titanic. There was Georgic. Olympic. Britannic. Even the surviving PS Waverley tourist steamship and the HMS Belfast are part of its legacy. It had a shot at building the new Queen Mary 2, though the original Queen Mary was built in Scotland.
Great Britain once had a universe of heritage shipbuilders, and Harland & Wolff was but one. They included John Brown & Co. of Clydebank; William Beardmore & Co. of Glasgow; Fairfield Shipbuilding of Glasgow; Bartram & Sons of Sunderland, Barclay Curle of Glasgow; and Lithgows of Port Glasgow. There was also Tod & McGregor; Wm Denny; Swan, Hunter & Wigham Richardson Ltd.; Vickers Armstrong Ltd.; and A. Stephen & Sons. There is a sort of magic about all the legacy shipbuilder names, but Harland & Wolff has a special magic, and with the right political and economic leadership, it can come back.
P&O The Last Liner
The last passenger liner built by Harland & Wolff was the Peninsular & Oriental Steam Navigation Company liner SS Canberra, which appeared in Diamonds are Forever. It was scrapped in Pakistan. Sad. In 1977, the ailing British shipyards were nationalized into one company, British Shipbuilding, though Harland & Wolff stayed a separately nationalized company. Like all of Labour policy and administrations, it was a disaster. Hope came when Harlands was privatized in 1989; they even came close to building the Queen Mary 2, but could not get a government guarantee. New P&O ships, all looking like floating airport hotels with tattoos on the side, are now built in Europe.
In recent years, Fincantieri and Meyer Werft, both fairly recently founded shipbuilders, have taken over as the better known makers of cruise ships in Europe, and Asian companies are building container vessels for the surviving shipping lines, which are fewer and fewer, and owned either by the communist Chinese or Maersk.
Even Newport News Shipbuilding, maker of the great S.S. United States and aircraft carrier Nimitz, is losing its own identity as a shipbuilder in this modern era. It is no longer building commercial chips. I was there covering the shipyard when they launched their last commercial ship for the now shuttered Hvide Marine in 1999; it was an LNG carrier. No one noticed, and no one cared. The market has since gone elsewhere.
The difficulty with helping the shipyard is that Western leadership, indeed the western leadership class, largely has no interest in things like shipping or transportation. Dubai has taken over P&O's port operations, and American flagged carriers can't even take their ships safely through a storm from Jacksonville, Florida to the Caribbean. U.S. airlines, though profitable now, are always prone to disaster during recessions. In the United States, President Donald Trump has proposed and supported a 355 ship Navy, but Pentagon leadership has not put forward a plan.
This un-readiness is all over the Western world. The reality? You need great ships if you want to be a world power, both economically and militarily. There will be a market for the future Harland & Wolffs of the world. In a dangerous world, where people seek freedom, a great Navy is always needed. But to keep it, you need to keep up the expertise that makes the U.S. and its Commonwealth allies ready, and at hand.
Irish Workers Rally
News clips have politicians asking for innovation; there are still possible bidders for the company. But figuring out a long-term solution will not be easy, as innovation needs to meet capital and markets. This is a challenge, as the yards in Korea, their big three for instance, are the closely held private companies Daewoo, Hyundai and Samsung. These companies are supported by their governments, and have corporate backing that has a generations-long industrial policy that supports their existence. It is not enough to say a country supports a maritime industry; its financial and political leadership must work together to make it happen. This does not mean an industrial policy, or socialism. It means people working together, as leaders, to ensure that a country can make and ship the things that it needs.
Local newspapers have called for ideas, and workers have tried to rally as they stay on site. A report from the Belfast Telegraph here.
"The massive campaign to save Harland and Wolff has struck a chord with people throughout Belfast and Northern Ireland, including many former and retired workers," she said.
"This project reminds us that Harland and Wolff was built by workers' hands. We don't just need to save current jobs, we also need to pass on skills to a new generation of workers' hands".
Workers at the yard over the weekend were in the progress of having a "work in" to prevent its closure. It seems the only people who have positive ideas in this situation are the workers themselves, who understand the intrinsic value of a great thing, but do not have the connections and the finance to actually do anything except to demonstrate the asset that they are.
Claire Simpson of the Irish Times reports that there have been positive responses in terms of a prospective buyer.
There are no easy answers for what needs to happen to Harland & Wolff. But it is indeed a good sign when the local community has stepped up and said that we will not let a great British/Irish institution be shut down. Whatever happens, the site is important, and even keeping the yards for repairs would be a good stopgap. Making government-sponsored windmills will not do it. It is a shipyard. And it must build and fix ships, or ship-like vessels and steel.
A Great Brand for Shipping
A business to business brand is not normally a consumer brand. But with Harlands, the company is a brand as well. Some of the area near the shipyard has been redeveloped as the Titanic Quarter. The yard appears as part of the tourist infrastructure, even as there is little to see.
There is plenty of demand for ships, lots of repair work. Ferguson Brothers survives as a smaller yard; even the ancient Bibby Line operates in a smaller niche ship market. And the Royal Navy is down to a pittance of vessels, but needs to be rebuilt, and might need to be with Britain outside the E.U.
At its height, the Royal Navy had 1,400 vessels. While reconstituting this might seem like a dream, it is not. If the Royal Navy committed to a large number of smaller more nimble vessels, it might make its shipyards more viable, and its sea routes safer for Britain's new role away from the E.U. In addition, if you add the Indian, Canadian, Malaysian and Australian navies, you actually get a pretty amazing diversity of power across the Commonwealth. The Royal Australian Navy has 46 commissioned ships. The Indian Navy has around 80 ships, many of them Russian made.
For those who want to learn more about the issues of shipbuilding in the U.K, the Irish Times has an excellent opinion piece by Eamon Fingleton.
Some Twitter Links:
I have been in regular contact with @BDONI and unions and I'm pleased there have been positive discussions this week regarding the sale of Harland & Wolff. I continue to do all I can to secure the future of this historic site and ensure workers' interests are protected.

— Julian Smith MP (@JulianSmithUK) August 16, 2019