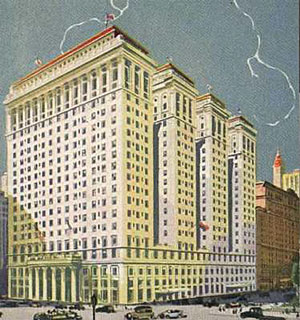 New York is, of course, a great tourist destination. But with vacancy rates going up, it needs a spurt.
Recently, The Fantastiks came back. That's quite interesting. And then a version of the old Horn &  Hardart Automat returned, in the format of Bamn!
It got us thinking. What are the other tourism opportunities out there involving brands or classic things that have gone missing in New York?
Here are few ideas, all a bit wacky, we admit, but designed to make folks who are paid to think about these things think about something other than boring junk:
Permanent World's Fair: The old World's Fair in Queens is still there, and people still love to stand by the Unisphere. It needs to come back as a more utilized urban park, with some of the park elements revived to create a more dynamic experience. Face it; Manhattan gets all the attention for tourists, but Queens deserves a bit, eh?
Proctor & Gamble Soap Opera Land: So Proctor & Gamble's productions are gone, except for As The World Turns., except for Young and the Restless. Guiding Light's sets were thrown out into the streets. Why wasn't this developed into something before it was lost? Good news; you can always start it back. Here's what it looks like. Sets for soaps, combined with P&G products, all mixed together. The Guiding Light, Search for Tomorrow and As The World Turns will go on forever in Internet versions that guests can walk onto. In the land of the Internet, bandwidth is cheap, and everyone wants to be a part of the show and will pay for a walk on bit. They make a reservation, give their name, sex and age, and get sent the "script" the week before. Shows are short, only 15 minutes. Apparently, P&G is doing some web with live couples and Pampers (no, not that sort of thing!), but seriously they aren't with the TV brands that people know, like Guiding Light. Big bore. Bring them back.
Sesame Street: Why oh why, when Children's Television Workshop was born in New York, did they open a theme park with Busch near Philadelphia? New York needs an urban attraction that is all about the production of the actual show. It could be connected to other PBS programming in New York, though Sprout is through Comcast in Philadelphia, home of Sesame Place. It does not have to be elaborate, just authentic.
Colgate World. When the old New Jersey Colgate clock was set up on the ground, it lost all its oomph. I want a Colgate factory tour, thank you. Their factory building was torn down in the 1980s; thankfully the clock was saved. Well, let me tell you. It is time for manufacturing to come back to New Jersey. I am sure Colgate could get some nice old tax breaks if it rebuilt a factory. The factory needs to actually employ human beings, and it needs to have glass windows so folks like me can get my jollies by watching the tubes in the factory line. Colgate World would have a number of additional features including reduced price teeth cleanings (all market research), product samples and photos up on the roof with the clock, with the New York City skyline in the background. Take that P&G!
World Trade Center: When sand-bandit sent his creepy minions to destroy this place, we would have shown him by rebuilding it better, not smaller. And then nothing is yet rebuilt.
Lost Retail: All of these great retailers are gone. Quite missed. Retailers we miss include Abraham & Straus, Gimbel's, Peck & Peck, B. Altman, Rumplemayers and others. These could all return. Not ALL of them could return, but certainly they could return in reduced form. Some ideas:

Macy's Brooklyn returns as A&S.
One other idea is Abercrombie & Fitch, Original Store. Yes, this chain is known for tarted-up teens, but it could actually have an "original" N.Y. store where it sells sporting goods to encourage tarted-up teens to do things outside, rather than procreate.
Times Square Howard Johnson's: This place could have been cleaned up with a bit of Clorox. Well, actually LOTS of Clorox. Where to buy those subliminal clam strips?

S. S. United States: As a Virginian, I admire the National Historic Landmark ship, the S.S. United States. It was built in Newport News Shipbuilding. It rusts in Philadelphia, all rust. Perhaps it needs to come back to New York? Jersey? Near the Statue of Liberty? Underwater? Who knows, but the beautiful thing needs a home and maybe there is a solution in New York.
Pan Am: While the old airline is gone, and I will forever be sad about that, remnants of the airline survive, in the name of the Delta Shuttle terminal at LaGuardia and the Pan Am WorldPort, now Terminal 3. Delta could exploit these branded experiences more, without switching to the Pan Am name. How? It's all about Delta claiming the Pan Am legacy. And what the heck happened to those Hebald Zodiac sculptures?
Hotel Pennsylvania: It's still around, but it could be bold and grand again. One other thought. In the UK, the regional railroad brands were revived when BritRail was privatized. How about reviving some of the regional railroad brands to add some oomph to commuter rail? New Haven, Pennsy, that sort of thing.
The Biltmore: The Grand Hyatt New York, connected to Grand Central Station, was once The Commodore, and a sort of cousin to all those other Biltmore Hotels across the U.S. The chain could be revived, though there would certainly be some issues as to who exactly owns the Biltmore brand (perhaps it has become genericized). There is also a Biltmore apartment building in New York, and the clock is in an office building.
Chrysler Building: How about some way to get to the top of the Chrysler Building and look at some Chryslers, Dodges, Fiats and such in the lobby? And what the heck happened to the Cloud Club?