KANSAS CITY – It started at a wedding reception in Kansas City, Missouri in 1945.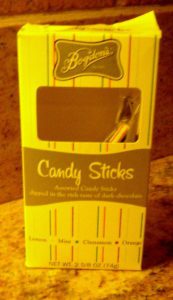 Walter Bogdon rolled hard candy into sticks, and then decided to dump them into chocolate. Thus was born Bogdon's Reception Stick.
Many other products of the Bogdon Candy Company Inc. have since been introduced including Mint Double Dips (a spun sugar stick dipped in dark chocolate, drenched again, and wrapped in an elegant silver foil) and other varieties of chocolates including Kahlua and Amaretto flavored candies.
Find out more at www.bogdonschocolates.com.
According to the site, it's still a family-owned business, with over three generations of Bogdon's making the candies over an open fire, in only 100-pound batches at a time.