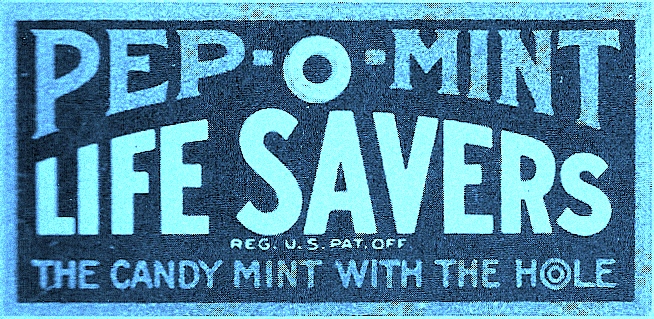 A reader writes:
"I remember Fancy Fruit Life Savers being my favorites as a boy and I cannot seem to find them anywhere … Discontinued? What's the story? I've seen Tropical Fruits available but rarely … Hmmm"
Yes, you are not imagining things, dear BrandlandUSA Reader. Life Savers are a declining brand, and it has nothing to do with consumers who still like the brand, and everything to do with a great American brand that has been lost in the shuffle of corporate shell games. In fact, what has happened to the brand is nothing more than a national tragedy. Well, that's a bit overstated. But if you want Life Savers,  you have to buy them wrapped. Or from a specialty store. Some 7-Eleven and Walgreen's stores don't even stock the rolled version.
Clarence Crane started selling Peppermint Life Savers in Cleveland around 1913. He sold the company to a fellow named Edward Noble, who figured out how to wrap the mints in foil to preserve taste, and put them by registers. Noble later bought ABC Television in 1943. E.R. Squibb Corporation purchased the company and in 1981, Nabisco Brands Inc. bought the Life Savers.
It became part of Kraft when Nabisco and General Foods merged into Kraft. It is now part of Wrigley, which has recently agreed to be purchased by Mars. Mars should be able to extract some value out of the brand and make its presence in checkout lines more consistent.
Original flavors we know of include:
Pep-O-Mint
Wint-O-Green
Five Flavors
Wild Cherry
Butter Rum
Fancy Fruit
Tropical Fruit
Chryst-O-Mints
Spear-O-mint
Sweet Mint
Orange Mints
Spin off brands include:
Life Savers Gummies
Life Saver Minis
Life Saver Fusions
Creme Savers (ICK ICK ICK)
Wrigley bought the company from Kraft in 2004, along with Altoids and some factories. Even before the Wrigley purchase, the candy was in decline, and the candies are not on most shelves, including obvious places like Walgreen's. They are no longer made in the U.S.; for years they were associated with Port Chester, N.Y.
Bagged and individually wrapped Life Savers are available, as are Gummi Savers. Nationally, we have found that independent drug stores are good places to find the foil rolls. And last Christmas, we found the Life Savers Sweet Story Books again on the Christmas candy shelves.