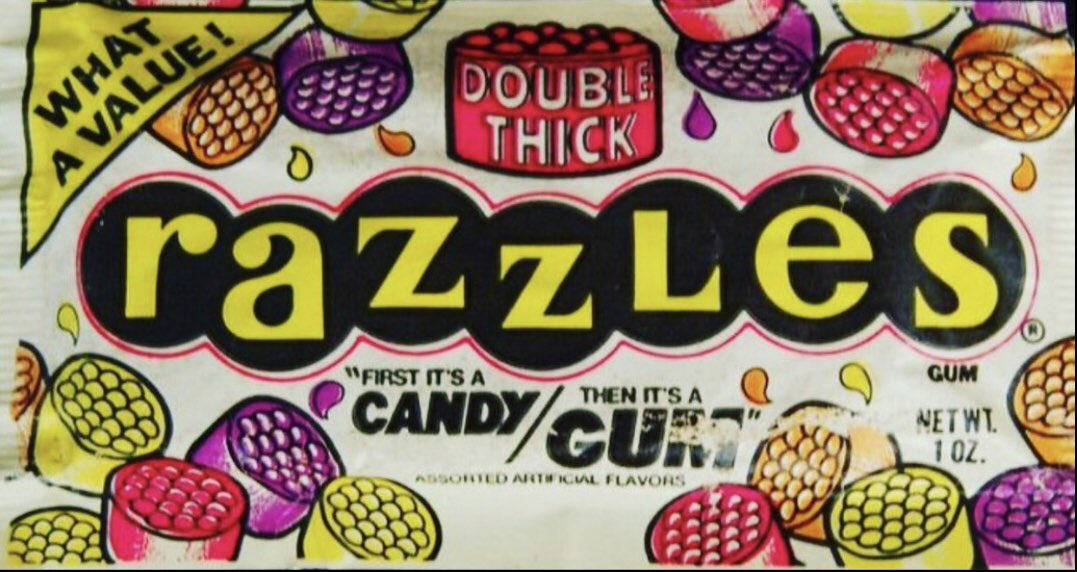 A candy that is first candy, and then gum, is a special kind of Wonka-like experience. Not Wonka-like because of its provenance, but because of its ambition. Razzles are not only sweets and taste, but technology and sensation. Something happens. They do something. They are sort of transformative, in the way that Pop Rocks crackle, Zots explode, Freshen Ups squirt or Nik-L-Nip bottles pour.
To an 8-year-old, they are genius. In tasting them today, and through the taste-buds of memory, they somehow seem a bit more medicine-like than they were, and the consistency is a bit different, though it is hard to tell without the original. There was always a taste element that reminded one of eating dry Kool-Aid drink mix.
The Philadelphia gum company Fleer first produced Razzles in 1966, with the innovation that "First it's candy. Then it's gum." The "Razz" came from raspberry; the telltale bumps made it feel like some sort of fruit. The company added flavors, today they include Blaze 'n Blueberry, Tangerine Orange, Razzle Raspberry, Gushin Grape and Luscious Lemon. They are now made in Canada.
Pennsylvania Anabaptist Inventor
The inventor was a Pennsylvania chemist named Robert C. Bucher (1911-2008), who in 1963 actually won U.S. patent number 3,262,784 for Razzles. Bucher, an Ursinus College chemistry major, worked for both DuPont and Philadelphia-based Fleers, Inc., where he was a research chemist.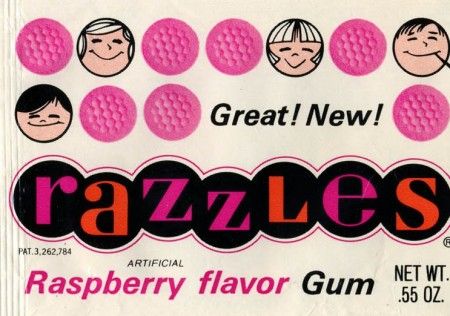 Bucher's patent makes for interesting reading, if you are of a mind to think about how things get from factory to store, or are interested in chemistry and manufacturing. It is described thusly:
"The present invention relates to a novel chewing gum product and to the method of making the same; and more particularly the present invention relates to a chewing gum product which, unlike all previous chewing guns, is a dry, non-tacky, crumbly, friable material capable of being, on the one hand, easily rendered at room temperature to finely-divided (powder or granular) form which can, on the other hand, be readily formed into any desired shape as by simple compression. Pieces of the gum product of the present invention possess many desirable properties, including resistance to moisture and oxidative-deterioration, and enhanced flavor characteristics as compared to conventional chewing gum products. Chewing gums, including adult chewing gum and bubble gum, are conventionally prepared by mixing heated chewing gum base, an aqueous sugar syrup (principally corn syrup or glucose), dry sugar (sucrose or dextrose) and flavor.
"The syrup (corn syrup or glucose) has always been believed to be a necessary component as far as conventional commercial manufacture is concerned. As a result the warm (100-110 F.) chewing gum product discharged from the mixing vessel is a tough, taffy or dough-like mass containing from 3 to 5%, by weight of moisture. As would be expected, forming such a product into ultimate shapes involves extrusion or rolling, and scoring or cutting. Reducing the material on a commercial scale to finely-divided form, at room temperature and without resorting to chilling to freezing temperatures, is out of the question. Hence, presently available chewing gums cannot, in finely-divided form, be blended with other materials nor formed into desired shapes by simple compression. Moreover, presently available chewing gums are sensitive to atmospheric moisture requiring wrapping of each individual piece in a moisture-resistant wrapper or providing the pieces with a moisture-resistant coating.
How much to appreciate. The patent also had a bit of purpose. In order to differentiate it from actual gum, which could not of course be patented, the patent stated why it was not like gum, and had never been done before:
It is the principal object of the present invention to provide a novel chewing gum product.
It is another object of the present invention to provide a novel chewing gum product which exists in a physical state different from prior chewing gum products and which, by virtue of such difference and of advantageous properties flowing therefrom, presents desirable avenues of utilization new to the chewing gum manufacturing field.
A further specific object is to provide a novel chewing gum product which can readily be rendered to finely divided form and which, in said form can be shaped by simple compression or blended with other finely-divided materials or with liquid materials. Still another object of the present invention is to provide a simple, economically attractive and practical method for making the novel chewing gum product.
Fleer a Pioneer
Frank H. Fleer was the innovator and creator of Dubble Bubble, the first bubble gum, and his company continued until 1986. Sadly, Fleer split in two; the baseball and football cards sold to a separate Fleer, and the gum operation to the Canadian company Concord Confections. The brand is now a part of publicly traded Tootsie Roll, maker of Tootsie Pops, Charms, Charms Blow Pops, Cella's, Dots, Junior Mints, Charleston Chew, Sugar Daddy, Sugar Babies, Andes, Dubble Bubble and other brands.
Tootsie would do well to celebrate the heritage of its products a bit more, including Razzles. It would also be interesting to find a home in the U.S. for the Tootsie company's entire production, in a place that could be toured. It was unfortunate that Fleer closed their Philly factory; Fleer could have been the Hersheypark of gum, if it knew what business it was in. Its original building might not have the space for a tour, but the whole bubble gum theme deserves some sort of attraction status, particularly with the history of baseball and trading cards. Today, they operate in the U.S. out of nondescript warehouses in places like Hazleton, Penn. and Covington, Kentucky.

Bucher's contributions to U.S. and Pennsylvania history are considerable. Bucher, who spent most of his life in Lower Salford Township, was a renaissance man who not only had great chemical skills, but knew local history, folklore and architecture.
A member of Indian Creek Church of the Brethren, Bucher's history interest focused mainly on anabaptist sects; his papers are at Mennonite Heritage Center. He was also a founder of Lower Salford Historians, Goshenhoppen Historians, Pennsylvania Log House Society and the history village Historic Schaeffertown.
Just a few years after he invented Razzles, Bucher's was documenting the early housing of early Pennsylvania ancestors, and wrote in Pioneer America journal a history of The First Shelters of Our Pioneer Ancestors. The story details how anabaptist settlers in Pennsylvania built caves, lean-tos and log cabins when they arrived as religious refugees from Germany and the rest of Europe. The Robert C. Bucher collection includes diaries, advertising and records of Harleysville area businesses, deeds, estate settlements, and a large collection of photographs. There are also samplers, newspapers and fraktur-type (the old German font) family records that are also catalogued in the Mennonite Heritage Center collection.