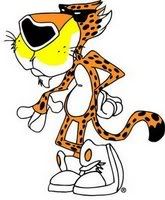 Brandweek is reporting that Frito-Lay, the snack division of PepsiCo, has purchased its first 30-second spot for Cheetos during NBC's telecast of the game, and the brand's animated mascot is the star.
Chester the Cheetah is finally getting his big break in the Super Bowl.
Frito-Lay is hoping the commercial, which breaks during the first half of Super Bowl XLIII, will give snackers the munchies. The strategy is part of the client's larger mission of reaching adult consumers via Cheetos, a repositioning that began last year.
For the full article, please click here: Brandweek.com Chester Cheetah Story