Michigan Needs a GM Auto Tour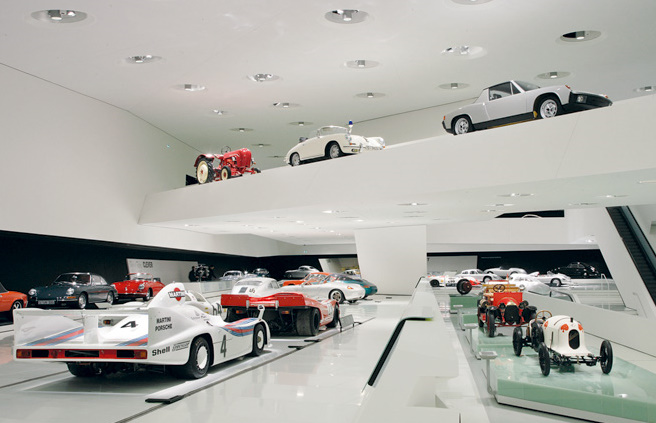 A week or so ago, we happened upon a Business Week story about General Motors auctioning off some of its car collection. Some of these items were either flubs or concept cars, and not actually produced. All are fascinating, including a Harley Earl Buick. When we first read it, it didn't bother us that much; after all GM is getting a big taxpayer bailout, and I am not sure I can defend taxpayer money going toward antique car maintenance.
And then I saw these photos of a new Porsche Museum in Germany (thanks to Klaus Holzapfel's Twitter blast). Take a look at the photos, both interior and exterior. The building is gorgeous, and shows the full history of the Porsche brand. Wow. Fascinating. And what a sales tool! Not only is it useful as an archive of what the company has done, but it is a way to show consumers what the company is all about NOW. It also builds tourism, educates children about the company, and gives the company a place to entertain. If you click on the Der Speigel article, it has a great video.
What is also interesting is that the museum is about a single BRAND; it has promotion written all over it. They have a bit on the Porsche website about the museum, saying that it is the "central repository where the Porsche tradition will be preserved and displayed."
After seeing that Porsche building, I am now ticked off at GM, not that it matters to them. GM certainly doesn't need a museum as grand as the Porsche Museum; they would be pilloried for it now. But they need to do more to bring the American public into their factories and heritage. Looking at the website of their Sterling Heights Heritage Center, they don't even open it to the public, except for groups.
How you do a motor museum!
It is not difficult to open places to the public. There are a few steps. You take a key, unlock the door, greet guests warmly and then offer to walk them around and tell them about the cars. If there are not that many visitors (which is apparently the problem), you print up things called "FLIERS" and you take them to local visitor centers. You also have a person called an "ED-U-CA-TION DIREC-TOR" and she will call on schools to sell tours, ensure that tours relate to the curriculum, and greet school buses when they come. At the front, there is a thing called a "GIFT SHOP" where you put trinkets related to GM. On certain days, you offer a thing called a "FACTORY TOUR" where you charge certain sums of money to families who are interested in seeing a car being made. Safety is an issue, so you ask the guests to be on "BEST BEHAVIOR" and wear hardhats, and they always comply.
We did a bit of web searching, and also pulled out our handy book Company Museums, Industrial Museums and Industrial Tours by Doug Gelbert, published in 1994, in order to help us find where the auto museums are. GM used to offer tours in Flint at their plant at 902 East Hamilton Avenue. Thankfully, GM opens up its Bowling Green, Kentucky plant to the public, and they deserve praise for this. The plant makes Corvettes and Cadillac XLRs; they have a great site and description of the tour. Good job. Very good job. We will stop ragging on GM now.
Ford has a different perspective on the public; they offer tours of their crown jewel Rouge plant. Sadly, it is the ONLY automotive factory tour in Detroit.
Of course there are General Motors related sights in Flint and Detroit. The website VISITFLINT.com has a list, which includes the Alfred Sloan Museum (and Buick Gallery and Research Center) the Kettering Collection of Industrial History and the Walter P. Chrysler museum. They are all part of a Motor Cities tourism and education heritage area.
Question for BrandlandUSA Readers: What sorts of GM and Chrysler tours and exhibits might help promote the automakers and help with tourism in Michigan? What sorts of of collections are left?