We have added another brand to BrandlandUSA's 100 Brands to Bring Back. It is the Milwaukee Road's Hiawatha, and it is the suggestion of New Yorker Jon Vanhala, who understands how cool it was, and could be.
Actually he doesn't need to tell us that. We know it because just the name Hiawatha, from Longfellow, conjures up so much. The Hiawathas (plural) were a branded set of trains operated by the Milwaukee Road, mostly between Chicago and Minneapolis, though others went to the West Coast. Not only was the design first rate, some of the Hiawathas were designed by Brooks Stevens, who designed the Oscar Mayer Weinermobile. (The firm is still in business; look at their site for all manner of interesting projects and industrial design work.)
Above, we see a photo of the Hiawatha from a Flickr user named Vielles Annonces. Annonces has a brilliant collection of archival images, many from slides, of the train (go to her Flickr account to see it all. It's quite addictive). It makes us think that Kodachrome is still a viable brand.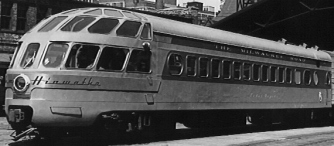 Some of the Hiawatha cars are still around, including a rear lounge car, which was sort of the iconic part of the train set. Amtrak would do well to bring back the rear observation lounge on some of its Chicago-based trains, at least for special events or once a year.
Trainshares Inc., which leases out old rail cars for rail-cruise trips, has a Hiawatha lounge car. A bit about the car:
The Cedar Rapids was built in 1948 as the "finishing touch to a perfect train" for operation on the Hiawatha operating out of Chicago. This skytop observation lounge Car was elegantly rebuilt in 1984 and updated in 2004.