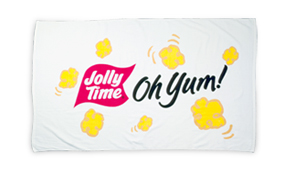 SIOUX CITY – There are lots of brands of popcorn, and many consider it a commodity, particularly bagged variety sold under store brands.
But there are great brands of popcorn including:
Perhaps the oldest of popcorn brands is Jolly Time, which was founded in 1914 as the American Pop Corn Company. The company was founded by Cloid Smith in Sioux City, Iowa. The company is still run by the family. Go online to their site and you can order a Jolly Time towel, or other cool stuff.
American Pop Corn Company, One Fun Place, Box 178, Sioux City, IA 51102; 712-239-1232; Jolly Time