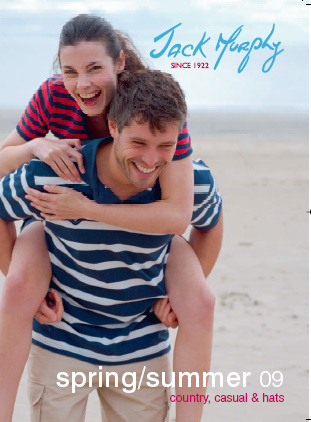 How do you position a foreign brand if you are bringing it to the United States?
The question came up over comments on LinkedIn.com's Licensing, Merchandising and Brand Management discussion board. The points discussed the Jack Murphy brand, which is a 1922 heritage brand from Ireland that is eyeing the U.S. market.
This true of any regional brand that is being sold in a place separate from its region of birth. The main thing? You need to keep the connection to the place of the brand's birth.
What are critical aspects:
Sell the 1922 Date: The 1922 founding date is critical. You need to sell the Irish legacy and story. What was happening in 1922 in Ireland that is interesting.
Don't let it be Americanized: For years nobody in the US even knew what a Barbour jacket was, but then they swooped in with word of mouth. We want British-ness when we buy stuff from England, and you need to promote those classic good looks from Ireland.
Nurture the Irish image: You need to choose the first retailers and customers carefully, and of course with the Northeast Irish connection, you want to nurture that, though stay away from the St. Paddy's parade stuff; it needs to be elite.
Get hot looking people to wear it in the states: You need to make sure the first people who like the brand are the sorts that will spread the word. The first customers also need to be attractive. Sounds silly, but if those folks aren't cool, the brand won't catch on in high school and university. And if it catches on at university, adults will be forced to buy for them and they will look at the brand.
Americans in Ireland: You need to encourage Americans to shop at the store in Ireland. If they bring it home from Ireland, it becomes a talking point and ad for you in the states.
Start with a small budget: You need to make sure that you start carefully, with only one or a handful of retail outlets. A few good customers and one good store will put the brand in a good start. Word of mouth, that's all you need. If a retailer doesn't look right, don't let them have the merchandise.