Major manufacturers need to keep premium prices on brands. So what happens if you need a non-premium price? Don't do a sub-brand of your main brand. Instead, re-launch an older brand name.
Yamaha used the Cable-Nelson piano brand a few years ago, as a separate sub brand from Yamaha.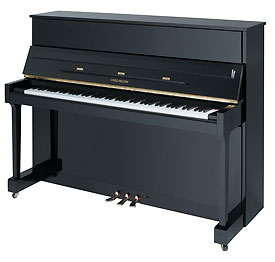 The Cable-Nelson brand traces its roots to 1903 in Chicago, when Fayette S. Cable purchased two small piano companies. These companies, Lakeside Piano Company and Sweetland Piano Company, then became the Fayette S. Cable Piano Company. The Cable-Nelson brand resulted from a merger with the Nelson Piano Company in 1905.

The Everett Piano Company bought Cable-Nelson in the late 1920's, moving its manufacturing operation to South Haven, Michigan. In 1954, the Hammond Organ company acquired both Everett Piano and Cable-Nelson. Yamaha purchased both Everett and Cable-Nelson in 1973. While Everett piano production continued, the production of Cable-Nelson pianos ended in 1981.