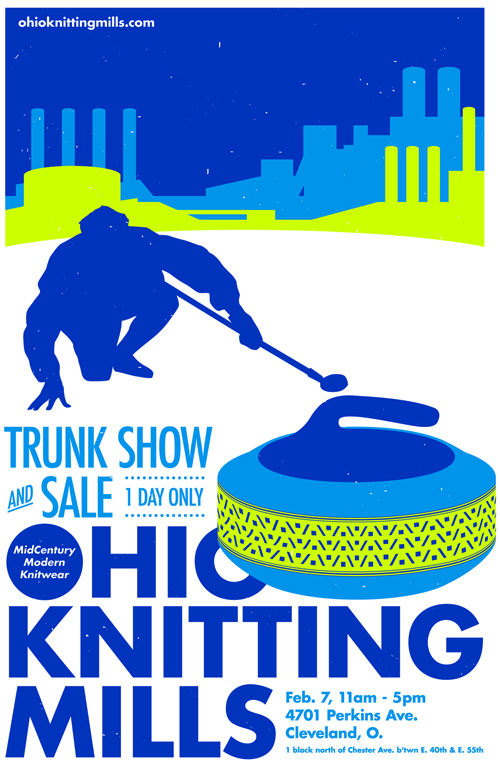 CLEVELAND – We are indebted to the website A Treasury Of for telling us about the sweaters of Ohio Knitting Mills. The mill has closed, but some of their product samples survived. While not all are being sold, some are. It's like a vintage store, but its all new! At right, a promotional poster from a trunk sale; it's over but the item illustrates that good graphics can make a regionally named brand stand out for its name (take that you branding fools at Genworth, and your dumb name, and your killing off the great good brand, Life of Virginia.)
When we read about the site at first, however, we thought that maybe, perhaps maybe, the factory, patterns and business had somehow survived, and we had missed it, and you could go to Cleveland today and all sort of nice Americans with decent paying jobs would be making well-styled quality sweaters. Not true, but apparently they are in business to sustain the business after the original runs disappear.
Pictured on this page, a 1966 shirt. A bit from their site:
Founded by Harry Stone in 1928, the Ohio Knitting Mills grew to become one of the country's largest knitwear producers, and was at the center of Cleveland, Ohio's thriving garment industry. Three generations of the Stone-Rand family ran the Mill for 76 years, producing knitwear for iconic department stores from Sears to Saks, and revered labels like Pendleton, Van Heusen, and Jack Winter. The Ohio Knitting Mills took up an entire city block, and employed up to 700 workers. Their products ranged from the sublime to the everyday, and from 1947 -1974 the mill's production and creativity were at a peak- knitting up caps, capes, sweaters, shirts, vests, dresses, and pants with bold colors, inventive patterns, quality materials, innovative techniques and a good dose of a strong Midwestern work ethic.

After World War II, the Mill plucked samples of each style they produced and put them into storage. Five decades later, this archive had grown into a vast collection of remarkable design artifacts, representing mainstream fashion from the classic 40's, fab 50's, swinging 60's, and funky 70's. We've opened this time capsule, and offer to you our collection of perfectly preserved American fashion and industrial craftsmanship.
Do go visit their website and see what it is all about.