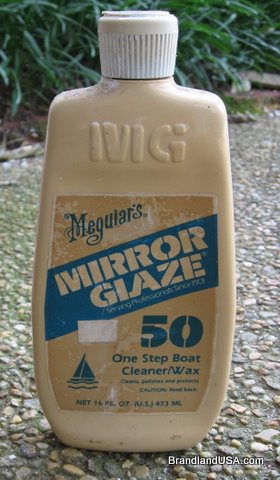 IRVINE, Calif. – Best known for its car-care products, the niche boat and car cleaner brand Meguiar's sold out to 3M on October 3, 2008.
3M already makes a number of automotive products, and the Meguiar's product line includes waxes, polishes, cleaners, conditioners and protectants for the automotive and marine markets. (At right, a bottle from the mid-1980s, oror perhaps earlier. It was found in an archaeological dig in a much-beloved relation's garage.)
"The addition of Meguiar's builds on our professional offering for the automotive industry and brings the expertise of Barry Meguiar in the growing enthusiast market for car-care products," said Ian Hardgrove, vice president, 3M Automotive Aftermarket Division in a press release last fall.
A bit from their website:
The family business that began over a century ago making furniture polish one bottle at a time in the garage of founder Frank Meguiar, Jr. now spans three generations of Meguiar's and 92 countries. Meguiar's, Inc. has become the world's most respected manufacturer of cleaners, polishes, waxes, conditioners and protectants for every conceivable surface.
We hope the brand can continue to keep its own identity within the 3M family, just as Scotch tape or Post-it notes are sub-brands of 3M. It's a quirky brand with cult appeal in the nautical market, and you don't want to mess it up.
Car enthusiasts know Meguiar's not only for its products, but also for its presence at thousands of car shows.
"Combining with 3M will greatly enhance our ability to serve and support 'Car Crazy' people on a global basis," said Barry Meguiar, president and CEO, Meguiar's Inc. in a press release last fall.

In the press release, 3M said that its Automotive Aftermarket Division provides a comprehensive line of 3M products for auto body repair professionals and auto enthusiasts. Products include abrasives and accessories, performance cleaning products, waxes, masking tapes, panel bonding adhesives, general adhesives coatings and sealers, paint finishing polishes and compounds, and paint application systems. Complementary acquisitions such as this support 3M's growth strategy to strengthen its core businesses and expand into adjacent markets.
Meguiar's is headquartered in Irvine, California, and last fall employed approximately 115 people; Sawaya Segalas & Co., LLC acted as exclusive financial advisor to Meguiar's Inc.
The car products company has done an excellent job focusing on its niche, car enthusiasts and produces specialized products for every automotive surface, including paint, wheels, tires, and interiors. They also produce Meguiar's Car Crazy Television and Radio.