ADDISON, Ill. – Fade to black. That's the cue for a new design trend for some packaged consumer goods. A recent example is the new Turtle Wax Streak-Free Mist line, which uses the company's familiar turtle logo, but puts the product in a spray bottle, with a black, ergonomic atomizer atop.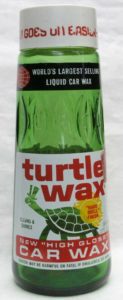 Companies throw around the word "iconic" when they are talking about brands, but Turtle Wax is one brand that has such a classic appearance in our memories that almost everyone who buys car wax can imagine the Turtle Wax bottle. For much of the brand's history, its flagship product was a green bottle, with scalloped sides so that it might resemble a turtle's back. The turtle was the perfect choice for the brand, as everyone knows the cute amphibians are impervious to water.
The brand's colors were red, green and a little black band at top. The brand won out out over other brands like Whiz Hollingshead to become synonymous with car wax. There are other brands associated with car waxing like Simoniz (more associated with the retail wash itself), Meguiar's (which has a following among car enthusiasts) and Armor All. The latter gained market share with its ability to refresh plastic and rubber, a key ingredient in many cars in recent decades. It also was a spray product, which was not associated with Turtle Wax, a creamy product that consumers had to buff. The new line is designed to compete against all other car cleaning brands.
The Turtle Wax company, which has just celebrated its 75th anniversary, devised the new Streak-Free Mist line in order to "solve a key issue faced by nearly every car owner when detailing their car – streaking."
The company offers the new collection of products at Walmart. They say that the atomizer contains a "one-of-a-kind, premium fine-misting sprayer that produces a smooth and continuous application while preventing over-use, which results in a flawless finish inside and out."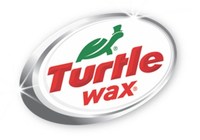 "Streaking is a big aesthetic problem we see in the auto community, especially on dark cars. Many car owners turn to detailers to solve this issue, finding that premium spray products are the best, albeit high-end, way of fixing the problem," said Mike Schultz, senior vice president, research & development at Turtle Wax, in a release.
"We really played up the idea of 'streaking' to hammer home the problem that consumers are having in a dramatic way, while noting how Turtle Wax's Streak-Free Mist line is the solution," said Daren Herbert, chief marketing officer at Turtle Wax, in the release. "It was important for us to highlight that car care doesn't need to be a labor-intensive task through products that speed up the car care process while providing exceptional results at a great price."
Minimal and Black
Car trends have made a market for the product, as automobiles become more expensive. The arrival of subscription car washes, done multiple times a month, creates a need for a "touch up" product, rather than home waxing. The multiple versions (for leather, tires) compete with other car care product categories.
The update, however, further pulls Turtle Wax away from its classic look. The current turtle, for instance, has more of an action pose, and does not have scallops on his back. He follows a trend of making logos less cute. The increase in the color black is also a trend, seen in some micro-brands.
The use of black has been mostly seen in electronics, where it has been associated with a certain inertness. It is not necessary in consumable goods, which can use color, typography and photos to tell a story.
The original Turtle Wax dates from 1944, when the Illinois company created the first bottled (as opposed to paste) car wax.