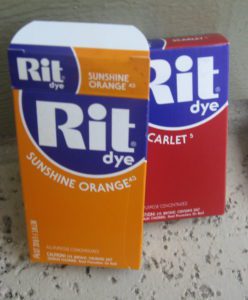 Last weekend, the teens were in the yard getting ready for church camp. They had to get a LOOK together. And what did they decide to do? Head on over to the store (I forgot to ask which one) and buy a bunch of packs of Rit Dye to do tie-dyed shirts.
It made us think what a forgotten-but-essential brand Rit Dye is; everyone knows it but few pay attention to it. Instead, we just take it for granted. Somehow, it falls into the brands like Testor's paint; we just expect that they will be around when we need them.
Above, an ad for Rit; early on it was made by Sunbeam Chemical Co. The ad is from the blog Found in Mom's Basement. It was owned by Unilever until 2001, when it was sold along with a dozen or so other major brands like Argo Corn Starch.
Rit Dye is one of those old American products that hangs on, no matter what. Today, it is made by Stamford-based Phoenix Brands, makers of Fab, Ajax, Niagara Spray Starch, Final Touch and Dynamo. It has survived the Depression, and lived through the conservative 1950s to find new life in the hippie movement. By the 1980s, it found new life again with boom in crafts. It is often used in decorating, as you can change colors of fabrics.
I especially liked these two lines from Phoenix's mission page. They might seem cliche but so few companies do it that I wonder why it seems so fresh:
Innovating to recapture and excite core users and bring new consumers to the franchise
Enhancing profit to rebuild productivity and drive category dollars
Other than crafts, today it might be going back to one of its original uses, namely fixing a "stained" piece of clothing by re-dying it to cover the mess.
And as you see here, it's always popular with teen-aged girls.
But it points to something about brands, namely that brands become what they become not because of marketing, but because people use them a certain way. The process, lore and history around the use of a product is what makes it a great brand. Certainly over the years, Rit's marketing has positioned it to be the only brand of dye that folks can speak of.
But it is consumers, including a new group of 15-year-old girls, who have made it into an American icon.