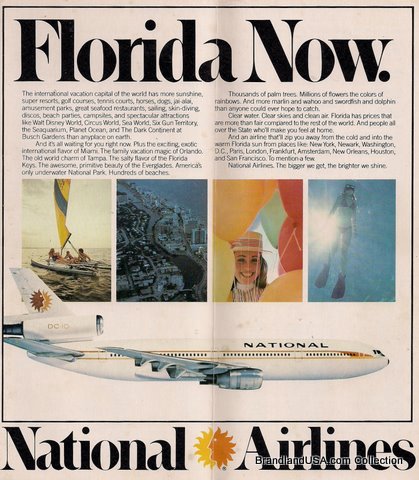 MIAMI – There could not have been a more perfect Florida ambassador, and airline, than National Airlines.
When the "Sunshine Airline" merged into Pan American World Airways in 1980, a uniquely Florida institution was lost. It was the first major airline that promoted a state as its marketing position and achieved national prominence with that approach. Others have succeeded since; Alaska Airlines and Hawaiian Airlines the survivors.
New York Air sort of succeeded for a time; Air Florida was the other, and we know what happened there. There was also Texas International and AirCal.
National, founded in 1934 by George T. Baker, did everything for Florida. It was the first domestic jet carrier and the first all-jet carrier. It pioneered transatlantic service from the South to Europe. After being taken over by appliance heir Bud Maytag, it seemed to be as well run, and dependable, as his family's appliances.
The airline was not above the social trends of the time. It created a nationwide stir with the airline's 1971 "Fly Me" campaign, which highlighted stewardesses telling of reasons to "Fly Me" by flying National. Feminists protested, but the campaign worked.
The Florida sun theme (and Sun King logo) was everywhere, and not just painted on DC-10 tails.
Sundrome in the Snow
In New York's JFK, National built the Sundrome, an extravantly elegant glass-walled terminal designed by I.M. Pei. (It sits next to the TWA Flight Center (now of JetBlue) and the Pan Am Worldport (now of Delta). No matter what the weather in New York, this Florida "embassy" was warm and sunny, filled with gorgeous flight attendants in Oleg Cassini uniforms taking guests to the sun. National changed the marketing of Florida from a seasonal destination to an all-year market. It also helped change the image of Florida as a place not only of hotels and swamp-brokers, but a state where technological leadership and business acumen were celebrated.
Every bit of the airline was close to perfection. The airline even owned its planes outright, which made it a too-plump takeover target. It is a cautionary tale, and proof that in capitalism, something that is run very well can still disappear for reasons that have little to do with economics.
A successor airline today had the moniker National Airlines, but it had no direct connection with the original. For a time in the 1990s, the Sun King logo appeared on the planes of Key Airlines, which was a small Southeast airline.