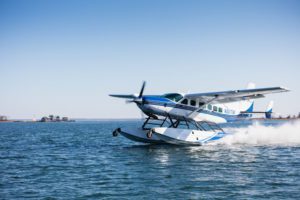 NEW YORK – Old, proven ideas work, and often allow for more interesting solutions than the supposedly high-tech future we were promised with such creepiness as autonomous package delivery, and pilot-less airplanes.
Example? New seaplane air service from Boston to Manhattan from Tailwind Air using the Cessna Grand Caravan EX.
On Aug 3, Tailwind Air began seaplane service from Manhattan's New York Skyport Marina and Seaplane Terminal on East 23rd Street to Boston Harbor. In Boston, a seven-minute water taxi will transfer clients to the South Boston waterfront.
"By offering nonstop, weekday flights at peak hours to and from Manhattan and Boston Harbor, we present exclusive time savings over all other modes of transportation, at a reasonable price premium," said CEO and Founder of Tailwind Air, Alan Ram, in a press release. "Our [Tailwind] service combines the accessibility of the train with the speed of a flight."
Flights are just over an hour between New York (IATA code: NYS) to Boston Harbor (IATA Code: BNH). The planes carry eight passengers, who can arrive just 10 minutes before flights. Each plane has two pilots, and Cessna Grand Caravan EX amphibians is piloted by experienced and highly qualified captains. Tailwind Air currently flies to and from Manhattan, Montauk, Easthampton, and Shelter Island on a regular schedule. The carrier also announced weekday commuter flights to Bridgeport, Conn.
"Seaplanes and waterway access fuel our exclusive service–a game changer for travelers between these cities," said Peter Manice, the airline's Director of Scheduled Operations, in their release.
The service rids passengers of the expense of commuting to an airport and lengthy check-in, security, and boarding. It also makes possible quick business trips. And with only eight on the plane, it promises a fun, social experience, with the air of a private plane. The plane trip also then becomes an experience in itself, as there is no better way to experience the city than from the air.
While all of the technology is time tested, the planes are new, less than five years old. And the simple turboprop is particularly good with CO2 emissions.
The Manhattan Skyport opened in 1936. It is both a traditional marina, with multiple party and tourist cruises, as well as a seaplane marina. It also has a parking deck. The idea of maritime seaplane operations is over a century old, and was born in New York, on Long Island. It was in 1919 that the first Curtiss NC-4 crossed the Atlantic.
Seaplane operations have been offered in maritime cities such as Seattle, Miami, and Vancouver through the years. Even the tiny Northern Neck, Virginia town of Irvington, on the Rappahannock River, had a seaplane base at one time. Urban seaplane service works well in busy waterfront areas, and they do particularly well in areas with high tourist traffic and cruise ship operations, where seaplanes are seen as a posh amenity and activity. For instance, the Virgin Islands Seaplane Shuttle offered flights between the waterfront at Charlotte Amalie, St. Thomas, and San Juan's Luis Muñoz Marín International Airport. The chief issue with that operation was that the Grumman Amphibian was out of production.
For New York, the only challenge is cold weather and ice. And new COVID restrictions and the threat of vaccine passports may make a tourist recovery there more difficult.
Ticket Books Available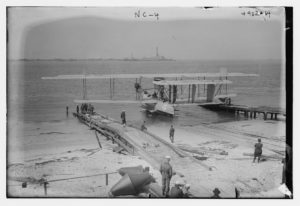 Boston Harbor-Manhattan flights, and a complete schedule for all flights operated by Tailwind Air, can be found at flytailwind.com. Tickets can be purchased on the website, by phone, and through local and online travel agencies via a code share partnership with Southern Airways Express, which serves resort routes in places like Montauk, Nantucket and Hawaii. 
"As North America's largest passenger operator of Cessna Caravans, Southern Airways has been pleased to partner for the past two years with one of the leading Caravan seaplane operators, Tailwind Air," said Stan Little, Chairman and CEO of Southern Airways. "Connecting Boston and New York Harbors by air is indeed a game-changer, and we are proud to be the exclusive airline code share partner on this venture."
For travel agents, Tailwind Air is commisionable. Tailwind Air also offers discounted and unrestricted prepaid commuter books of 10, 20, and 50 tickets for passengers, which can be shared with colleagues, friends, and family that save 35% or more off of last minute fares. These books may be the ultimate perk. Corporate rates are also available.
Tailwind Air currently flies to and from Manhattan, Montauk, Easthampton, and Shelter Island on a regular schedule. Last week, Tailwind announced weekday commuter flights to Bridgeport, CT. The Cessa Caravan Amphibian is made by Textron, which sells the Beechcraft, Cessna and Hawker brands of airplanes. The company also owns McCauley Propeller Systems, which makes the time-tested propellers on Caravans.