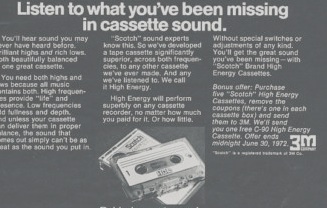 The 1970s cassette brands Memorex and TDK are back as electronics brands.
Business Week reports that the brands have been revived by Imation (IMN), which itself was a spin-off of 3M. For the revival, Imation hired Ziba Design of Portland, Ore., to create electronics relating to audio products.
The company sells Memorex-branded iPod accessories, digital photo frames, DVD players, MP3 players, karaoke machines, and TVs at retailers such as Wal-Mart Stores (WMT) and Target (TGT).
The cassette, actually a Compact Cassette, was a product of the company Philips. They introduced it in Europe on 30 August 1963 at the Berlin Radio Show, and in the United States, under the Norelco brand, in November 1964. The trademark name Compact Cassette came a year later, according to Wikipedia.
A team of Dutch and Belgian engineers at Philips, led by the Dutch Lou Ottens, decided on the format in Hasselt, Belgium.
Some of the original cassette brands include:
Scotch: Yes, early on, the folks at 3M who made Scotch tape, made cassettes. Actually quite logical as a what is Compact Cassette reel but a bit of tape.
Fuji: The film company also made cassettes.
Sony: Sony had a period where they made flavored/fruit smelling cassettes.
BASF: The chemical company also sold cassettes; their chrome was top of the line.
Maxell: The company had a strong audiophile audience.
Denon, the stereo company, had a high end line in the 1980s.
JVC also sold cassettes.
Ampex was the original brand of tape recording equipment; Ampex advertised their Grand Master cassettes in the early 1980s as being the Tape of the Stars.
Learn more about vintage cassettes at vintagecassettes.com