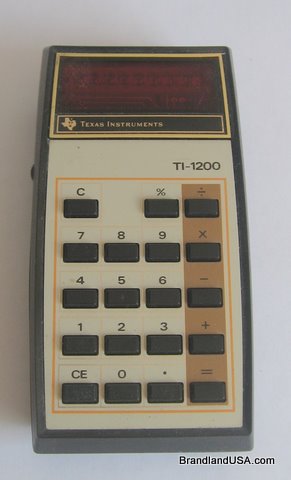 There are only a few legacy electronics companies that still operate under their own brand; great names like Sperry, Burroughs, Hallicrafters and such have been merged into other companies or disappeared. Thankfully, Motorola (NYSE: MOT) is still around, though the company appears to be drifting.
One great name that has survived is Texas Instruments (NYSE: TXN). TI has owned the field of calculators since the 1970s, and today still dominates upper level math with its graphing machines. It still even sells low end models. What's great about TI is that it operates an educational division that is only a small percentage of its larger electronics business. It is a company with net margins were over 18 percent. TI has got it right in that department.
Interesting, it still has an American competitor. HP. Hewlett Packard (NYSE: HP) is still in the education business, though its educational calculators seem far more popular with college and master's accounting and business students that TI's, which seem to have a following in secondary education. But secondary education is a great place to be; kids who take higher level math do important things when they grow up. Consumer goods companies pay dearly to reach high schoolers, and TI gets to do it and make money on it. The company cements its personal connection to education with an annual Teachers Teaching with Technology (T3) Conference, this year to be held March 5-7 in Atlanta.
A few months ago, the above TI-1200 was at a garage sale for a quarter, and sold it on eBay for around $20 bucks or so (the price originally was apparently $24.95) It dated from around 1975 (the calculator came in other versions including the Lady 1200 and the Spirit of 76). It was, and still is, a very satisfactory machine and I think I should have kept it. (They still sell a pink version of their graphic calculators for girls.)
Children were a big part of the branding of TI in the 1970s; they even offered a Little Professor for $19.95 in the shape of an owl.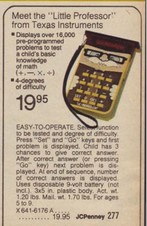 Texas Instruments has been completely consistent in its branding over the years, and completely consistent as a company. That's a good thing. We need more TI's that stick with their business.
The Wall Street Journal has reported on TI and the company's battles with the users who have figured out the code inside the calculators in order to unlock the power of the microchip within. Electronic Frontier Foundation has helped the cause, too, asserting that people who buy calculators should be able to take them apart, literally and figuratively, as long as they aren't selling patented information. And that's what we used to do with my TI-1200; underneath the faceplate there were extra buttons that were hidden. In addition, we could turn the keyboard upside down and write SHELL OIL with the numbers, a trick that could only amuse an 11-year-old.
The branding exposure of TI's Educational Technology section is priceless; such exposure and goodwill could not be purchased at any reasonable price. Most great electronics companies used to all have educational subsidiaries; SRA, the reading laboratory, was a part of IBM. We would like to see more of that commitment at other companies. I am sure that at times, there have been some at TI who wanted to sell the education business, but I am glad they've stuck with it.